Letritas [Juan Pablo de Gregorio]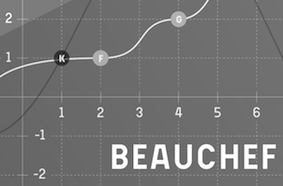 Juan Pablo De Gregorio Concha lives in Santiago, Chile, where he founded Letritas in 2006. Home page of Sabia Usted. Blog with entries on themes such as legibility. Designer of these typefaces:
Chucara Serif (2003) and Chucara Text (2003): free at Dafont.
Los Niches (2007). A playful hairline sans, about which Anna Malsberger writes: The lowercase f puffs out its chest with exaggerated aplomb, and t splits into a script stem reminiscent of a table grab a cocktail and pull up a chair to watch the show.
Romeral (2004, slab serif), a custom typeface for the University of Chile (2007).
Curico (2004).
Beauchef (2011, Cabinet Type). Beauchef is an organic monoline sans serif typeface, originally created to meet the needs of the Center for Mathematical Modeling, University of Chile. The design is cold as steel and rather abstract and lifeless, which reflects the ideas most people have about advanced mathematics. However, true mathematicians like warm, curvy and passionate letters and symbols. Beauchef was republished by Latinotype in 2015.
Los Niches (2011). A clean monoline sans family with some swashes. Published by Latinotype in 2012.
Pret-a-porter (2016). A calligraphic script typeface family accompanied by Pret-a-porter Slab.
Isabel (2016). Designed together with Eleonora Lana, Isabel is a very Latin text typeface family, feminine and didone-inspired. It has a unicase style. In 2017, Juan Pablo de Gregorio and Eleonora Lana added Isabel Condensed.
Condell Bio Poster (2016). A fat rounded sans. The larger Condell Bio family (published in 2017) was started in 2006.
Letritas home page. Creative Market link. Dafont link. Klingspor link. Kernest link.
EXTERNAL LINKS
Letritas


[Buy fonts]


[Designer info]
Dafont page
Creative Market page
MyFonts search
Monotype search
Google search

INTERNAL LINKS
The Chilean type scene ⦿ Type designers ⦿ Type designers ⦿ Readability & Legibility ⦿ Very thin (hairline sans) typefaces ⦿ Type blogs ⦿ Comic/cartoon fonts ⦿ Calligraphic typefaces ⦿ Unicase type design ⦿ Modern style [Bodoni, Didot, Walbaum, Thorowgood, Computer Modern, etc.] ⦿ Commercial fonts (small outfits) ⦿