Chalkboard and Comic Sans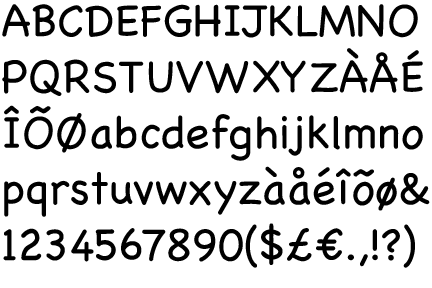 Vincent Connare (Microsoft designer of Comic Sans MS) claims that Apple's Chalkboard font created in 2003 and shipped with its Jaguar software, is too close to Comic Sans. I believe this is an outrageous claim. It's like saying that all casual chalkboard-style scripts descend from Comic Sans or attempt to replace it. If Comic Sans had been designed anywhere but at Microsoft, nobody would have known about it. It got a lucky ride. To stake a claim and mark territory because of this is wrong.
Nick Shinn has another (vali) view: This kind of plagiarism is legal in North America, as there is apparently no "point piracy" involved (but you could do a comparison of physical parameters). Technically it may be illegal in Europe. No self-respecting type foundry or designer would put their name to it, but Big Silicon can publish this font without damaging its reputation; Apple has no qualms about doing to Microsoft what Microsoft has done several times to others, most notoriously its copy of Palatino. Also, there is no general outrage, because Comic Sans is a much despised face--so again, there is a double standard. The fact that this is a free (bundled) font may also effect the optics, further lessening the stigma. However, despite Comic Sans and Chalkboard being "infra dig" with professional designers, Chalkboard has never acquired the cachet of Comic Sans, even amongst Mac users.
EXTERNAL LINKS
Chalkboard and Comic Sans
MyFonts search
Monotype search
Fontspring search
Google search

INTERNAL LINKS
David and Goliath ⦿ Blackboard type ⦿ Typefaces that emulate chalk ⦿