Espresso Society Studio [Dimitris Arvanitis]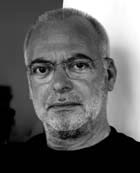 Dimitris Arvanitis (b. 1948, Chalkis, Greece) is a painter and graphic designer who has been or is art director EMI-Columbia and Minos and for magazines such as Periodiko, Difono, Tachidromos, Jazz&Tzazz, Kaleidoscopio and Adobe Magazine. He is a member of the Cannibal Fonts company, and founded Espresso Society Studio. He writes in magazines and newspapers, and designs fonts. His creations for Latin and Greek include CF2 Sophia, ConduitTC-Hel, Modula TallGreek and Senator TallGreek (a Greek version of Emigre's Senator).
Cannibal Fonts by him include Bac CF, Bloco CF, Fat CF, Milk CF, Poster CF, Sophia CF, Type Polaroid CF, and Type Ray CF.
MyFonts page. Klingspor link. Old home page. Cannibal Fonts link.