Typehouse [David Moore]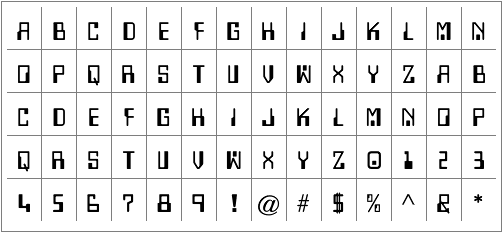 Type foundry that was active during the photo composition era. Creators of typefaces at VGC, such as Moore Computer (1968, an LED face) and TH Alphabet Soup (1975, a VAG Rounded style face).
Moore Computer and Moore Swash are both attributed to David Moore. Zach Whalen on Moore Computer: The minimal aesthetic properties of E-13B saw extended influence in a number of type designs created in the late sixties and early seventies, and many of these MICR-based typefaces saw extensive use in relation to videogames. The typesetting and printing industries were undergoing rapid and dramatic changes during this period, adapting to new technologies like photo- and CRT-based compositors, so a number of companies and design studies were going out of business or changing hands. In addition, the decorative typefaces echoing the style of E-13B were often seen as novelty products, so records about several of these typefaces and fonts are cursory may be unreliable. Nevertheless, the evidence indicates that the first full alphabet based on E-13B was a font called Moore Computer, published by the Visual Graphics Corporation (VGC), possibly as early as 1968.
EXTERNAL LINKS
MyFonts search
Monotype search
Fontspring search
Google search

INTERNAL LINKS
Extinct 20th century foundries ⦿ Photo and film type era ⦿ Type designers ⦿ Type designers ⦿ MICR fonts ⦿ LED / LCD fonts ⦿