Fontmill Foundry (or: Studio Liddell Ltd Graphic Design) [Dave Lawless]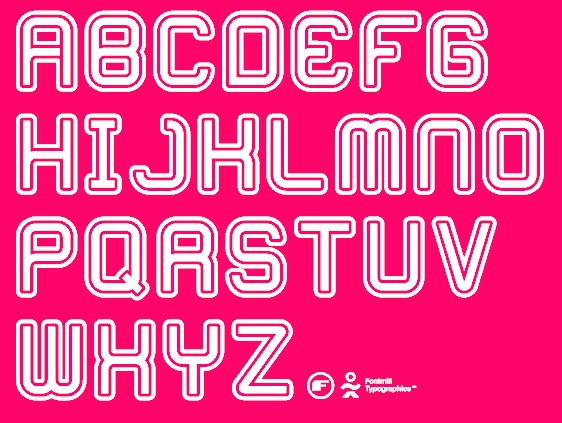 Fontmill is the Manchester, UK-based foundry run by Dave Lawless (b. Liverpool, 1974). MyFonts sells David's typefaces.
Designs include ABC (techno), Loop (2004, techno), Train (kitchen tile), Bubble Wrap, Suredog (sans), Emmie (2014), Bomb, Flat Pack (2007, at T-26), Imaginer (2006, paperclip style techno family), Train, Bloxed Rounded, 3D Bloxed, British Rail, Orcin Sans (2006, 6 styles), Invaded 2600 (2006: based on the Atari 2600 arcade classic Space Invaders).
Before Fontmill and Studio Liddell, Dave Lawless ran Tealeaf Digital Type Foundry (also called Little Red Circles). The Tealeaf fonts, created by a number of designers included: 3DBloxed, Architext, AU79, BaskerSans4, Bitmapbreakfast, breathe, Bubblewrap, Bull, Butter, Calliglession, Calligruffy, CarlSeal, Chewy, Crushedtalc, DuoGypsy, EasyLino, Forma, Geek, Grivant, Growbag, Gypsy, Inbreed, Index, Instamatik, Kyleaged5, Kyleaged5half, Ladyboy, Leavingglassvegas, Litrecs, Matrix, Mend, Metis Rota, Mr.fish, Munch, Next, NuChina, Nudgeashak, NuEngland, NuJapan, Number, Optimistic, Passion, Phobia (by Mark Bradley), Print is dead, Raygun, Reop-sans, Rupture, Scritch, Shakasonik, Shati, SheMale, Skript, Something, Stamp, Synsis, Timig, Tweak, Typeone, Underworld, Unruly Cucumber, Unstuklino, Untitled, User-unknown, Whanted, Yatta, Yuleo (Tony Howell). Free demos. Some were entirely free, such as Yatta, Tweak, Synsis, Skript, RepoSans, MrFish, Leavingglassvegas, Kyleaged5, Instamatik, Grivant, Geek, Crushedtalc. Working on ES811 (2006, a sans).
EXTERNAL LINKS
Fontmill Foundry (or: Studio Liddell Ltd Graphic Design)


[Buy fonts]


[Designer info]
Behance page
MyFonts search
Monotype search
Fontspring search
Google search

INTERNAL LINKS
Commercial fonts (small outfits) ⦿ Type designers ⦿ Type designers ⦿ Kitchen tile fonts ⦿ Pixel/bitmap fonts ⦿ 3D fonts ⦿ Type design in the United Kingdom ⦿ Paperclip faces ⦿