Versus Twin [Brian Bonislawsky]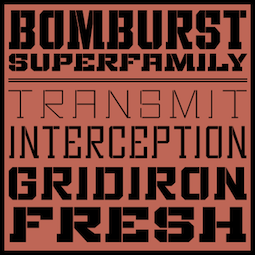 Foundry, est. 2004 by Brian Bonislawsky and Brian Jaramillo (Harvey) and located in Long Beach, CA, and Las Vegas, NV. The fonts are realeased through Veer/Umbrella. Jaramillo has been associated with DEFCON and Apollo26, while Bonislawsky was active at Astigmatic and Font Diner. Yves Peters reviews their production. Typefaces include Ink Gothic (2004-2009, slab serif), Fuel (2007; ink trap city, with a fifties-diner-meets-Dr.-Spock feel), and Occulista (a bunch of inside-outside multiline typefaces). Now also at MyFonts. In 2008, they jointly designed Wickenburg (Wild West meets grunge), and Sistine (a family that now includes a heavy stencil). Creations from 2014 include the army stencil family Bomburst.
View the typefaces published by Versus Twin.
EXTERNAL LINKS
Versus Twin


[Buy fonts]
MyFonts search
Monotype search
Fontspring search
Google search

INTERNAL LINKS
Commercial fonts (small outfits) ⦿ Type scene in California ⦿ Type scene in Nevada ⦿ Stencil fonts ⦿ Western fonts ⦿