Lazydogs Typefoundry [Oliver Linke]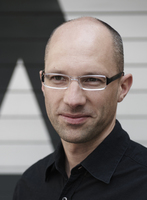 Lazydogs Typefoundry is a German foundry located in München (and before that, Augsburg), est. 2005, by Oliver Linke, Robert Strauch and Kai Büschl. They do custom type work. Oliver Linke (b. 1971, Odenwald, Germany) studied graphic design at the University of Applied Sciences Augsburg, Germany and the University of Missouri, Kansas City (19931-1998). He continued his studies in art history, art education and philosophy (2000-2005) at the University of Augsburg. He teaches type design and typography at the Designschule München (and before that, at the Blocherer Schule) and Augsburg. By 2017, Lazydogs was run by just two of its founders, Oliver Linke and Kai Büschl.
Lazydogs published some commercial typefaces, such as Fabiol (2005, Robert Strauch), a winner at the TDC 2005 type competition. Oliver Linke created the Lazydogs Finn family (2006, a gorgeous delicate sans).
At ATypI 2007 in Brighton, he spoke about Masterpieces of Johann Neudörffer the Elder (1497-1563). In 2007, Oliver Linke and Christine Sauer published Zierlich schreiben Der Schreibmeister Johann Neudörffer der Ältere und seine Nachfolger in Nürnberg (Beiträge zur Geschichte und Kultur der Stadt Nürnberg 25, Typographische Gesellschaft München / Stadtbibliothek Nürnberg).
Other typefaces: Pandera (2008, Robert Strauch), Fabiol (2005, Robert Strauch), Vela (2010, a text typeface), North (2008, Trine Rask).
Typefaces from 2013: Streets of London (a complete lapidary font family out of a capital alphabet designed by the British stone cutter and type designer David Kindersley (1915-1995), a former apprentice of Eric Gill).