La Letteria (was: Anatole Type Foundry) [Elena Albertoni]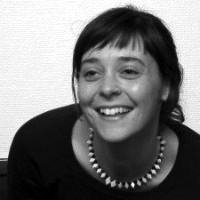 Elena Albertoni (La Letteria, and before that, Anatole Type Foundry, est. 2005) is an Italian type designer (b. 1979, Bergamo) who studied at ESAD Amiens and the Ecole Estienne in Paris, before taking a position as type designer at FontFabrik in Berlin, where she still lives. She cofounded Anatole Type Foundry with Pascal Duez. La Letteria is located in Berlin.
At the Rencontres de Lure 2005, she spoke about OpenType and Latin characters.
Her script typeface Dolce (2005) won an award at the TDC2 2005 type competition. She created Dyna (connected feminine script). Review of Dolce & Dyna.
Other typefaces include Kigara, Scritta (connected calligraphic script), Dolce (2005, connected script), Helene (squarish face), Valora, Schneider, Gregoria (a Gregorian chant font that won an award at TDC2 2007), Deja Rip and Deja Web (2010, eight-style sans family of great utility, co-designed with Fred Bordfeld; Cyrillic included).
Acuta (2010) is an all-purpose type family.
Scritta Nuova (2011) is a rhythmic upright connected script, which evokes retro calligraphic styles taught in Italian schools around the 1950s.
In 2012, she published the plump and curvy script typeface Molle at Google Web Fonts.
Nouvelle Vague (2011) is a connected display script along the lines of Mistral.
Spinnaker (2011) is a sans design based on French and UK lettering found on posters for travel by ship.
In 2011, Elena cofounded LetterinBerlin, a studio dedicated to handmade and digital design, with a special focus on lettering and type-design.
Alternate URL. MyFonts link. Behance link. Klingspor link. Google Plus link.