La Letteria (was: Anatole Type Foundry) [Elena Albertoni]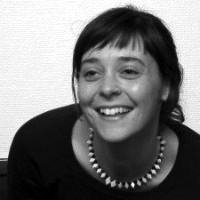 Elena Albertoni (La Letteria, and before that, Anatole Type Foundry, est. 2005) is an Italian type designer (b. 1979, Bergamo) who studied at ESAD Amiens and the Ecole Estienne in Paris, before taking a position as type designer at FontFabrik in Berlin, where she still lives. She cofounded Anatole Type Foundry with Pascal Duez. La Letteria is located in Berlin. In 2011, Elena cofounded LetterinBerlin, a studio dedicated to handmade and digital design, with a special focus on lettering and type-design.
At the Rencontres de Lure 2005, she spoke about OpenType and Latin characters.
Her typefaces:
Alternate URL. MyFonts link. Behance link. Klingspor link. Google Plus link.
EXTERNAL LINKS
La Letteria (was: Anatole Type Foundry)


[Buy fonts]


[Designer info]
Fontspring link [Buy fonts]
Behance page
Klingspor Museum page
MyFonts search
Monotype search
Fontspring search
Google search

INTERNAL LINKS
Type designers ⦿ Type designers ⦿ Type design in Italy ⦿ Commercial fonts (small outfits) ⦿ Calligraphic typefaces ⦿ Handwriting fonts ⦿ Music fonts ⦿ German type scene ⦿ Type design in France ⦿ Cyrillic type design ⦿