Julius Edmund R. Nitsche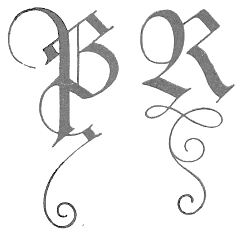 Designer, illustrator, painter and interior design architect, b. 1882, Breslau, Germany, d. 1965, München. He worked for the Jugend magazine in München.
Creator of Buchschmuck (1905), Akzidenz Zierat (1905), Unger Fraktur (1910, Klinkhardt; Wetzig says 1907), Waltraute (1916, a blackletter typeface done at Klinkhardt and at Berthold, Berlin) and Neudeutsche Ornamente (1911, Klinkhardt).
Among digital revivals, we note the ornamental caps typeface Unger Fraktur Zierbuchstaben by Dieter Steffmann (2002).
EXTERNAL LINKS
Julius Edmund R. Nitsche
Klingspor Museum page
MyFonts search
Monotype search
Fontspring search
Google search

INTERNAL LINKS
Type designers ⦿ Type designers ⦿ Blackletter fonts ⦿ Dingbats (original) ⦿ German type scene ⦿ Ornamental caps typefaces ⦿ Dieter Steffmann ⦿