Pomegranate Fonts [Carolyn Puzzovio]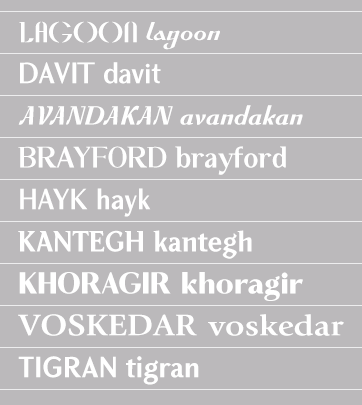 Pomegranate fonts is a joint venture between Edik Ghabuzyyan (Yerevan, Armenia) and Carolyn Puzzovio (b. Yorkshire, UK), intended to produce a number of Armenian / Latin typefaces. Carolyn is a lecturer at the University of Lincoln, UK, and a practising graphic designer. At AtypI 2005 in Helsinki, she spoke on Mesrob & Yacob: The story of the Armenian alphabet. In 2007, she created an Armenian font, Lagoon, which was based on a Venetian model from 1810. She won an award for Armenian type design at Granshan 2008. Since then, she is a regular member of the Granshan competition jury. Part of her research has been to trace the forms of Armenian types cut by the renaissance and later punchcutters in Europe. Carolyn plans to design further OpenType typefaces which feature both Latin and Armenian glyphs and are inspired by historical models. At ATypI 2010 in Dublin, she spoke about Armenian typography.
The font list at Pomegranate as of 2010: Lagoon, Davit, Avandakan, Brayford, Hayk, Kantegh, Khoragir, Vosdekar, Tigran.
EXTERNAL LINKS
Pomegranate Fonts


[Buy fonts]


[Designer info]
Klingspor Museum page
MyFonts search
Monotype search
Fontspring search
Google search

INTERNAL LINKS
Armenian fonts ⦿ Type designers ⦿ Type designers ⦿ Type design in the United Kingdom ⦿ Commercial fonts (small outfits) ⦿