K. u. K. Hof-Schriftgiesserei Poppelbaum [Hartwig Poppelbaum]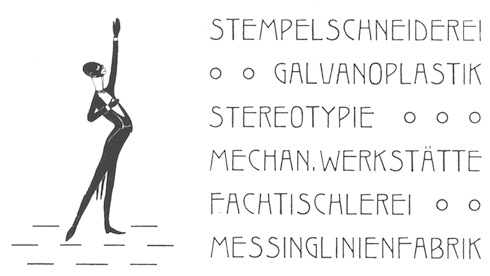 Viennese foundry acquired in 1926 by D. Stempel AG (50%) and H. Berthold AG (50%). Designers of Original-Schwabacher (before 1925) and Messe-Gotisch (before 1925). Kurt Liebing made Liebing-Fraktur, also some time before 1925. A small timeline of the company:
1858: Benjamin Krebs dies. His son-in-law Gustav Rosalino, partner in Benjamin Krebs Nachfolger) dies in 1870. That year, the Benjamin Krebs foundry opens an office in Vienna under the lead of Bernhard Alexander Poppelbaum. The firm Poppelbaum & Bossow (with Karl Bossow) is set up in Vienna with five foundry machines.
1880: Karl Bossow dies.
1890: Hartwig Poppelbaum and Karl Gsottschneider, the son and son-in-law of Hermann Poppelbaum become partners in the company.
1892: Hermann Poppelbaum dies.
1903: Compressa (an Inserat typeface family), Reform and Massiv are finished.
1903: The script typeface Ideal is finished.
1904: Publication of Ridingerschrift (a feather / copperplate script for weddings and invitations).
1905: Publication of the work horse typeface Rediviva.
1906: Biedermeier (an Inserat cursive) is finished. Frankfurter Buchschrift (designed by Paul Ed. Lautenbach) follows.
1907: Reklameschrift Komet, and Hohlweinschrift (by Ludwig Hohlwein).
1908: The book typeface Renata-Serie and the Gigantea typeface are published.
1909: Pompadour (an elegant Zirkularschrift after copperplate examples of the era of Louis XVI in France), Merian-Fraktur (after the typeface of Math. Merian used in bibles in the 19th century), the Rohrfederschrift Diavolo, the Rohrfeder-Fraktur are published.
1910: Karl Gsottschneider dies. Hartwig Poppelbaum is now the sole president. Publication of Katalog-Antiqua (a book face), Brunhilde (a Zirkularschrift), Federzug-Antiqua and Epoche.
1912: Opening of a shop in St. Petersburg where Cyrillic fonts are produced. The war brings an end to this project in 1914, and all machines and matrices are destroyed.
1923: The new leaders are Hartwig Poppelbaum Jr. and Dr. Karl Poppelbaum. New weights are added to Epoche and Merina Fraktur. New typefaces include Brentano-Fraktur, Alt-Schwabacher Werkschrift, Latina, Antiqua Firmin-Didot, Kanzlist (sans), Burokrat (sans), Konigin Luise (sans), All Right (sans), Schonbrunn (sans), Ideal-Schreibschrift III (sans), Hartwig-Schrift (by Hartwig Poppelbaum Jr: Hartwig Schrift was digitized by Petra Heidorn in 2005), Hartwig-Werkschrift (by Hartwig Poppelbaum Jr), Xylo, and Phänomen (signage script).
1926 or 1927: The foundry is acquired by D. Stempel AG (50%) and H. Berthold AG (50%).
EXTERNAL LINKS
K. u. K. Hof-Schriftgiesserei Poppelbaum
Klingspor Museum page
MyFonts search
Monotype search
Fontspring search
Google search

INTERNAL LINKS
Extinct 20th century foundries ⦿ Type in Austria ⦿ Bastarda / B&acirctarde / Schwabacher ⦿ Art Nouveau typefaces ⦿ Type designers ⦿ Type designers ⦿ Blackletter fonts ⦿ Cyrillic type design ⦿