Aktiengesellschaft für Schriftgiesserei und Maschinenbau (or: AG für Schriftgiesserei)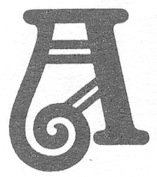 Foundry in Offenbach, Germany. Their main specimen book is Haupt-Probe über Schriftgiesserei-Erzeugnisse und Messing-Material (1911, Offenbach am Main). House typefaces include the blackletters Angelsächsisch, Archiv-Gotisch (1909), Asta (1902), Freigotisch, and Schöffer-Gotisch (ca. 1900). Heinrich (Heinz) König made the blackletter typeface Germania (1903). Eduard Brox designed Moderne Alt-Fraktur (1907; some give the date 1910). Albert Christian Auspurg created the blackletter typefaces Apart (1911) and Fraktur-Kursiv (1923). Their art nouveau typefaces include Apollo (ca. 1900), Inserat Kursiv, Neptun, Tedesca.
For digital revivals, see Appeal DT (2007, Malcolm Wooden, a revival of Apollo) and RMU Neptun (2021, Ralph M. Unger).
EXTERNAL LINKS
MyFonts search
Monotype search
Fontspring search
Google search

INTERNAL LINKS
Blackletter fonts ⦿ Extinct 20th century foundries ⦿ German type scene ⦿ Foundries of the 19th century ⦿ Art Nouveau typefaces ⦿ Victorian typefaces ⦿