Scotch Roman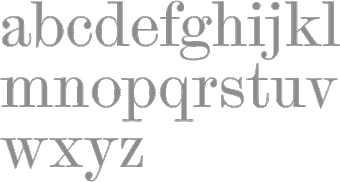 Great discussion on Typophile regarding Scotch Roman. We have two different opinions on the source of Scotch Roman: Linotype gives it to Richard Austin, while DeVinne credits Samuel Nelson Dickinson with modelling the first Scotch in Boston in 1837. Both sources agree that it was first cut by Alexander Wilson and Son in Glasgow. In 1839, Dickinson opened his foundry with the Scotch matrices. Scotch is a great book and magazine typeface (short descenders, good width, strong capitals, bracketed serifs). It has always been more popular in the USA than elsewhere. Scan of 6-50pt Scotch Roman from the 1912 ATF book. And of 34-60pt. Summary of some Scotch typefaces:
Dwiggins' Caledonia.
Matthew Carter created mostly Scoth Romans. Witness his FB Miller, Georgia ("Scotch Roman for screen"), Vincent, Big Figgins, Elephant, Caledonia (for Time magazine), and Linotype Monticello (after Binny & Ronaldson's Pica Roman No. 1, done for Princeton University Press).
Another font in this vein is FB Scotch (1993) by David Berlow (for Newsweek), based on the original Scotch and on Dwiggins' Caledonia.
Scotch Roman (Linotype), traced back to A.D. Farmer, 1904.
Scotch Roman by Nick Shinn.
EXTERNAL LINKS
Scotch Roman
MyFonts search
Monotype search
Fontspring search
Google search

INTERNAL LINKS
Typography ⦿ Choice of fonts ⦿ Type scene in Massachusetts ⦿ Scotch Roman ⦿