Peter Gabor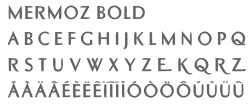 Born in Budapest in 1957, but Parisian since 1957. Designer and type artist who made many custom and magazine fonts. Blog. There is an ongoing feud between Porchez and Gabor which has invaded the internet waves. Gabor's blog and Porchez's blog are the stages for this royal battle. Generally, Gabor decries the hypocrisy in the type industry and calls for the Foundation of a Sir Francis Drake Society. The Book Antiqua/Palatino case and the Bitstream/Linotype battle irked Gabor, and he likes to expose type designers whose fonts are too close to others. Among his creations:
American Match. For Paris Match.
Elle Gabor. A great fashion-conscious geometric sans family. For Elle magazine.
Futura Canal.
Gabor 2000 (TypoGabor Phototitrage, 2000).
Gabor Script (TypoGabor Phototitrage, 1975).
Libération (1994). Four typefaces for the newspaper.
Manu Script Short (1995). A free script font based on his own handwriting.
Mermoz (TypoGabor Phototitrage, 1988). A roman style mini-serif family.
Moka Presse.
Nintendo: a pixel face.
Sade (Salon Sade, 1976).
Serge Lutens: a severe Calvinist face.
Total: commissioned by the gas company.
Yves Saint-Laurent.
EXTERNAL LINKS
Peter Gabor
MyFonts search
Monotype search
Fontspring search
Google search

INTERNAL LINKS
Type designers ⦿ Type designers ⦿ Handwriting fonts ⦿ Pixel/bitmap fonts ⦿ Very thin (hairline sans) typefaces ⦿ Type news ⦿ Type blogs ⦿ Type design in France ⦿ Type design in Hungary ⦿ Modern style [Bodoni, Didot, Walbaum, Thorowgood, Computer Modern, etc.] ⦿ Fashion mag typefaces ⦿