Fontenwerkplaats [Richard Keijzer]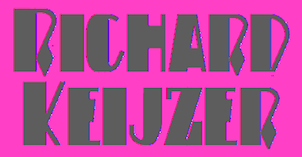 Richard Keijzer is the Dutch designer of many art deco typefaces, often based upon typefaces found on buildings or in Dutch publications, reviving styles known as Dutch deco from the 1920s and 1930s. Most of his fonts are free:
Mokum Betondorp (2005). A great art deco display typeface in the style of Broadway. He writes: I'm currently trying to reconstruct a font that was designed around 1924 by the architect D. Greiner in the Netherlands. He needed a special font to decorate some of the building in the then new subsurb Watergraafsmeer. The building project was a so-called garden village, that was nicknamed Betondorp (Concrete Village).
Mokum Plons, after a 1929 sign outside Het Sportfondsenbad in Amsterdam.
Mokum Tooneel (2006). Based on lettering by Anton Kurvers, a disciple of the Dutch architect Hendrik Wijdeveld (1885-1987).
Mokum Oorkonde (2006). Based on art deco lettering found in the archives of the city of Amsterdam.
Mokum Giro (2006). As found on the antique letterboxes of the Amsterdam Municipal Giro Service.
Mokum Expo (2006) takes inspiration from a 1975 poster for the Amsterdam Municipal Museum.
Mokum Cohen and Mokum Cohen Top (2006) are both art deco fonts based on lettering by Fré Cohen in the Annual Report of the Municipal Giro 1930.
Mokum Kruyswijk (2006, art deco) is named after Cornelis Kruyswijk (1884-1935), an architect in Amsterdam.
Mokum GGD was added in early 2007.
Quota (2007) is based on the sculptures made by Hendrik van den Eijnde for the main Post Office at the Neude in Utrecht. He finished it in 2018 and called the free typeface Post Utrecht, locally pronounced as Pos Utereg.
Mokum Stad (2008) is modeled after lettering found in Groningen and designed in 1925 by architect Siebe Jan Bouma.
Mokum Schip (2013): My inspiration for this font came from a phone booth in Amsterdam. Not just "a" phone booth but one in the former Post Office in building complex The Ship in Amsterdam. This Post Office closed in 1999 and since then that part of the building houses Museum Het Schip.
Dudok (2014). A Dutch deco typeface based on letter types by Willem Marinus Dudok, a Dutch architect. More specifically, the typeface is based on samples found in the city hall and under the train station of Hilversum, The Netherlands.
Karbouw (2014). A typeface based on Dutch postal stamps from 2014 that showed a karbouw, a kind of water buffalo found in Indonesia.
Bungehuis (2015). Based on art deco facade lettering at the Bungehuis in Amsterdam.
EXTERNAL LINKS
Fontenwerkplaats
Klingspor Museum page
MyFonts search
Monotype search
Fontspring search
Google search

INTERNAL LINKS
Sites with only a few free fonts ⦿ Type designers ⦿ Type designers ⦿ Dutch type design ⦿ Art deco typefaces ⦿ Type blogs ⦿ Architectural lettering/typefaces ⦿