Yaniguille [Guillermo Vizzari]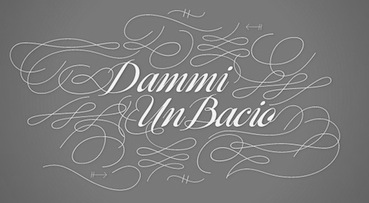 Guille Vizzari is the Argentinian designer of the gorgeous experimental pixel-script typeface Beautiful Pixel (2006). He also created the equally gorgeous connected copperplate script typeface Ragazza Script (2012, Latinotype). His graduation work in 2012 at FADU-UBA (University of Buenos Aires) is the Trajan / roman caps typeface Esmeralda.
In 2013, he published the lapidary flared serif typeface Esmeralda Pro at Sudtipos. Esmeralda Pro won an award at Tipos Latinos 2014.
In 2014, Yani Arabena and Guille Vizzari published Abelina Pro at Sudtipos. It is based on Yanina's thesis project in 2011-2012 at FADU/UBA simply called Abelina, which was mentored by Ale Paul and Ana Sanfelippo. Abelina won an award at Tipos Latinos 2016.
For the 3rd edition of Masticar (2014), an Argentine Gourmet fair, an exclusive hand-drawn poster typeface was developed by Yani Arabena and Guille Vizzari for use in the identity of the fair. In 2015, Alejandro Paul, Yani Arabena and Guille Vizzari combined forces in the signage script typeface Quotes (Script+Caps) (2015, Sudtipos).
Envelove (2017) is a script typeface family consisting of Script, Icons, and Caps, designed at Sudtipos by Yani Arabena, Guille Vizzari, and Alejandro Paul. Winner at Tipos Latinos 2018 of a type design award for Envelove.
Still in 2017, Guille Vizzari designed the great Moleskine notebook-inspired typeface family Proprietor at Sudtipos. Proprietor comes in Script, Icon, Deco, Wide, Open and Roman styles. Co-designed with Alejandro Paul, it won an award at Tipos Latinos 2018.
In 2018, Yani Arabena and Guille Vizzari published the lively vernacular signage typeface family No Molestar, which won an award at the Type Directors Club's Type Design Competition 2019.
Typefaces from 2019 include Buddies, a retro brush lettering font released by Sudtipos.
Designer of the vintage handcrafted typeface Espiritu (2021, Sudtipos), together with Agus Pizarro Maire.
Typefaces from 2022 by Yaniguille: Maison Maioli Text (a custom typeface for a floral boutique in London).
Old URL. Facebook page. Behance link (joint page with Yani Arabena). Joint web page with Yani Arabena.