LGJ Font Notes [Edward G.J. Lee]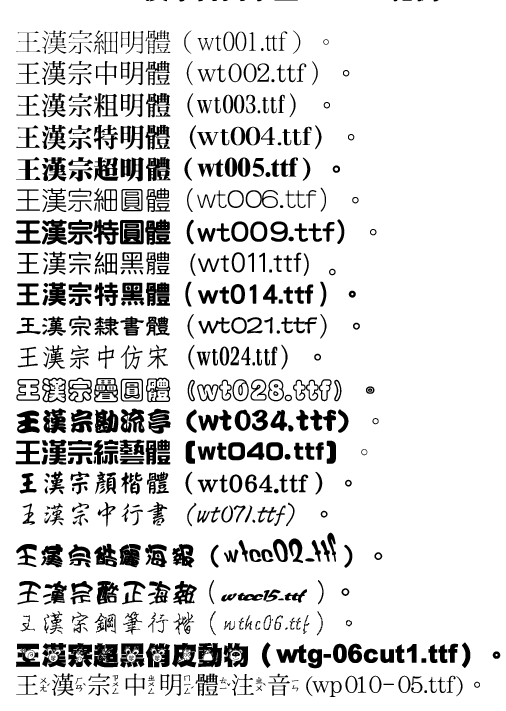 Taiwanese type designer Edward Lee has some font information pages (in Chinese). He has useful technical discussions on Metafont, OpenType, Truetype and type 1. Downloadable full CJK fonts include cwHBMono (2008, Tsong-Min Wu, Tsong-Huey Wu and Edward G.J. Lee).
This archive contains about 30 free full Chinese fonts in the WT, WTS, WP, and WCL series created in 2004 by Taiwanese type designer Edward G. J. Lee. The font names are: HanWangMingMediumChuIn, HanWangKaiMediumChuIn, HanWangMingMediumPoIn1, HanWangKaiMediumPoIn1, HanWangMingMediumPoIn2, HanWangKaiMediumPoIn2, HanWangMingMediumPoIn3, HanWangKaiMediumPoIn3, HanWangMingLight, HanWangMingMedium, HanWangMingBold, HanWangMingHeavy, HanWangMingBlack, HanWangYenLight, HanWangYenHeavy, HanWangHeiLight, HanWangHeiHeavy, HanWangLiSuMedium, HanWangFangSongMedium, HanWangKanDaYan, HanWangKanTan, HanWangZonYi, HanWangYanKai, HanWangShinSuMedium, HanWangCC02, HanWangCC15, HanWangGSolid06cut1, HanWangGB06, HanWang-KaiBold-Gb5, HanWang-WeiBeiMedium-Gb5, HanWang-FangSongMedium-Gb5, HanWang-SinSongThin-Gb5. All fonts are copyright Dr. Hann-Tzong Wang, 2002-2004.
EXTERNAL LINKS
LGJ Font Notes
MyFonts search
Monotype search
Fontspring search
Google search

INTERNAL LINKS
Type design in China ⦿ Truetype versus Type 1 ⦿ OpenType software ⦿ Type designers ⦿ Type designers ⦿ Type design in Japan ⦿ Korean (Hangul) ⦿ Type design in South Korea ⦿ Type design in Taiwan ⦿