rzy-- SD Fonts [Ritzy Spacedweller]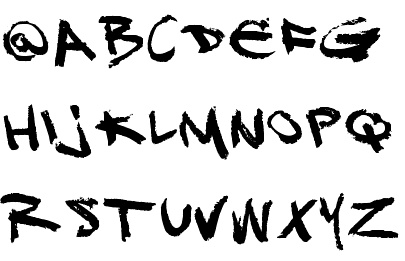 From Espoo, Finland, Ritzy Spacedweller's free fonts: Digeria-Normal, DJ-Gross, Donnie, Speedlearn-Normal, 02760, 3X3, 80's-Cyberpunk-Revival, AlSabro, Almanacques, Aranea, Bored-Schoolboy, Brainless-Thoughts, Clauderosa, Confusion, Coptica, Crying-Star, Daville, Dempsey-Modern-Uncial, Denial (this Exocet-related family from 2000 is also here), Empiric, End-of-Path, Fasttracker-II, Finnish-Rock-Paintings, Fire-Of-Ysgard, Ghis-Ghis, Glue-Klinging-Klan, Gothic-Bozo, Handshake, Helena-Script, Hic-Habitat-Minotaurus, Izolation, L'Elf Noir du Mal, Loving-Babes, Ludovicos, Metropoliz, Paganspace, Painfull-Misery, Paolo, Paternoster-AH, Professor-Mad, Progressiva, Reubalach, Rumble-Dumble, Sailor-'87, Scrawl, Scrypticali (2001), Seabreed, Silent-Hill-of-Cheryl, Slouch..., Swelled-Computer, Tagster, Times-UnXpected, Xenith, XenoArial, Dwarven-Stonecraft. Most fonts have only caps. Many have an "ancient" flavor.
Alternate URL. Could his real name be Kauko Mieli? Dafont link.
EXTERNAL LINKS
rzy-- SD Fonts
Dafont page
MyFonts search
Monotype search
Fontspring search
Google search

INTERNAL LINKS
Sites with only a few free fonts ⦿ Type designers ⦿ Type designers ⦿ Dingbats (original) ⦿ The Finnish type scene ⦿ Petroglyph Fonts ⦿ Coptic typefaces ⦿ Uncial typefaces ⦿