Typoma [Johannes Küster]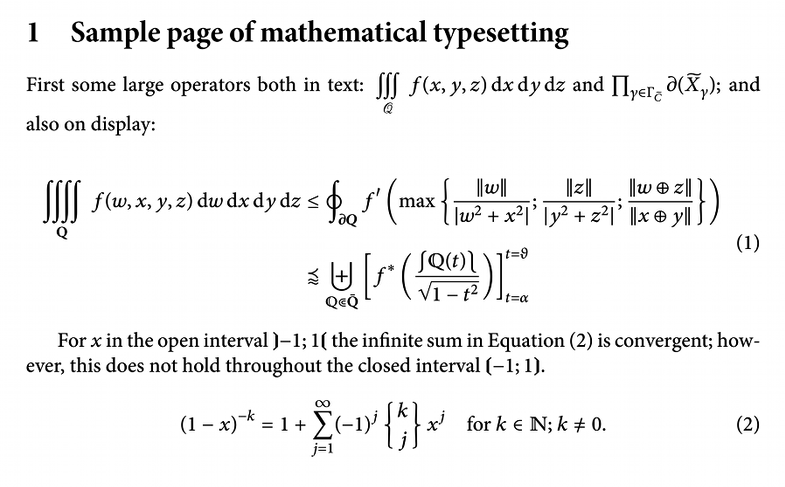 Typoma is Johannes Küster's place in the web. He is a mathematician, type designer and designer, who graduated in mathematics from Munich Technical University. During his studies, he got involved in the typesetting and production of mathematical books. In 2000, he founded his own office, typoma, and is now working mainly on typesetting scientific books, designing mathematical fonts, and writing and talking about mathematical typesetting and scientific typography. Johannes lives in Holzkirchen, Germany. At ATypI 2004 in Prague and at ATypI 2005 in Helsinki, he spoke about fonts for mathematics. Speaker at ATypI 2011 in Reykjavik. His contributions:
He is currently involved in 20-style (5 optical sizes times 4 weights) mega-project for adding over 2000 mathematical glyphs to Adobe's Minion family, which was released in February 2009 under the name Typoma MbMath, and in April 2009 as Minion Math.
To the German book Detailtypografie (2nd ed., 2004), he contributed the chapter about mathematical typesetting, and an extensive annotated list of mathematical symbols.
He is working on LatinModernMath to accompany Boguslaw Jackowski's Latin Modern, a free font set that provides an alternative for Computer Modern in TeX.
He is also working on mathematical extensions of Euler (with Hermann Zapf) and Computer Modern (called newmath).
EXTERNAL LINKS
Typoma
MyFonts search
Monotype search
Fontspring search
Google search

INTERNAL LINKS
Mathematics fonts ⦿ Type personalities ⦿ Type designers ⦿ Type designers ⦿ German type scene ⦿ Modern style [Bodoni, Didot, Walbaum, Thorowgood, Computer Modern, etc.] ⦿ Commercial fonts (small outfits) ⦿ Fonts with TEX ⦿