Best fonts of 2006 (MyFonts)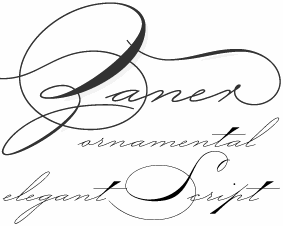 Based on sales, MyFonts ranks the best fonts for 2006, from first to tenth:
Swan Song: calligraphic, Canada Type.
Boycott: grunge, Ryoichi Tsunekawa.
The NautiGal: brush script, Rob Leuschke.
Dear Joe Four: handwriting by Joe Bob Graphics.
P22 Zaner: a penmanship font by Paul Hunt.
Cyan: a roman typeface by Wilton Foundry.
Korotaki: techno typeface by Ray Larabie.
Fleurons Two: ornaments by Gert Wiescher.
Estilo Script: art deco, DS Type.
Camingo: flexible family, by Jan Fromm.
EXTERNAL LINKS
Best fonts of 2006 (MyFonts)
MyFonts search
Monotype search
Fontspring search
Google search

INTERNAL LINKS
Choice of fonts ⦿ Brush script typefaces ⦿ Art deco typefaces ⦿ Penmanship ⦿