Globe and Mail [Nick Shinn]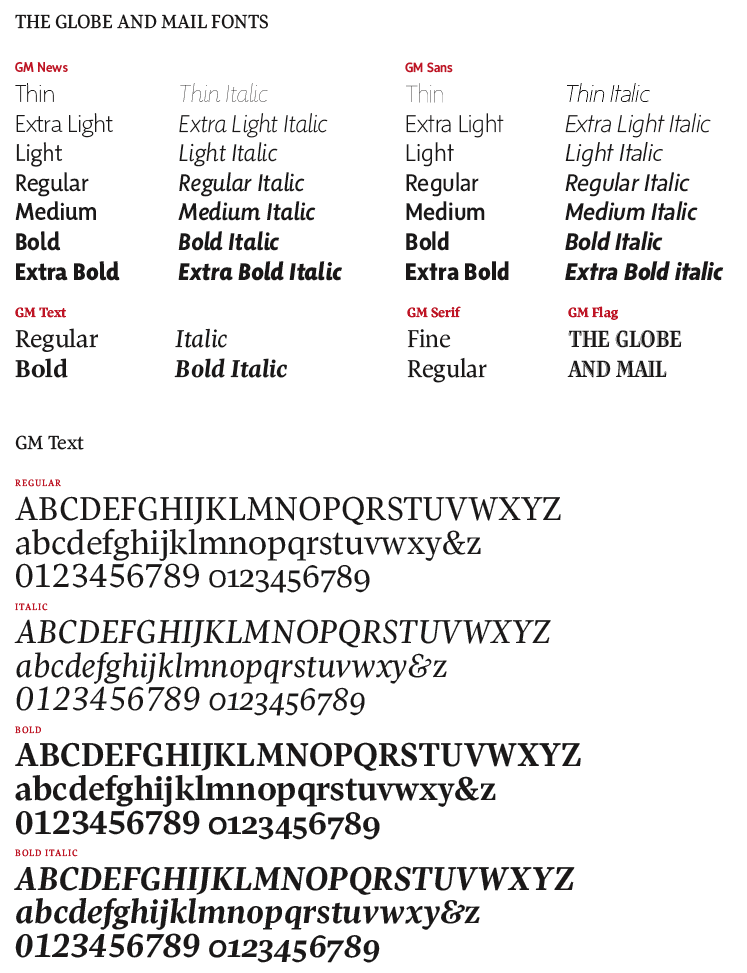 Canada's main newspaper, The Globe and Mail, was redesigned on April 23, 2007. It features a new font family, consisting of Globe and Mail Sans, Globe and Mail News, and Globe and Mail Text subfamilies, all designed by Nick Shinn. Thanks to the new type, the width of the paper was decreased to 12 inches, matching the Wall Street Journal. The redesign is good, with strong sectioning by well-designed separators. Sample. See also the piece by News Designer. The Globe and Mail News font replaces the old serif headline font, and introduces a semi-serif with the ascenders of the b, d and l slightly bent near the top. Its "l" has a tail for readability I suppose. Personally, I would have stuck with a solid serif headline face---classy and timeless.
Chapter two, October 1, 2010--another redesign, this time catastrophic by any standard. Text content is reduced, pictures are bigger and flashier (and all in color), sports scores, sudoku puzzles, and just about any piece of information is smaller (to the point that sudokus, for example, are almost impossible to do with no scratch space left), and large one-page ads without information are taking over. Nick Shinn's Globe Sans is not bad, but the Globe promises a reduction in its use of serif typefaces for text, and that is another major blunder. This is very sad, indeed, because just about all other newspapers in the country, some French ones excepted, are in the hands of a right-wing group and provide predictable biased content.
EXTERNAL LINKS
Globe and Mail
MyFonts search
Monotype search
Fontspring search
Google search

INTERNAL LINKS
Typography ⦿ The Canadian type scene ⦿