Fabulous Rice Fonts [Fabrice Ducouret]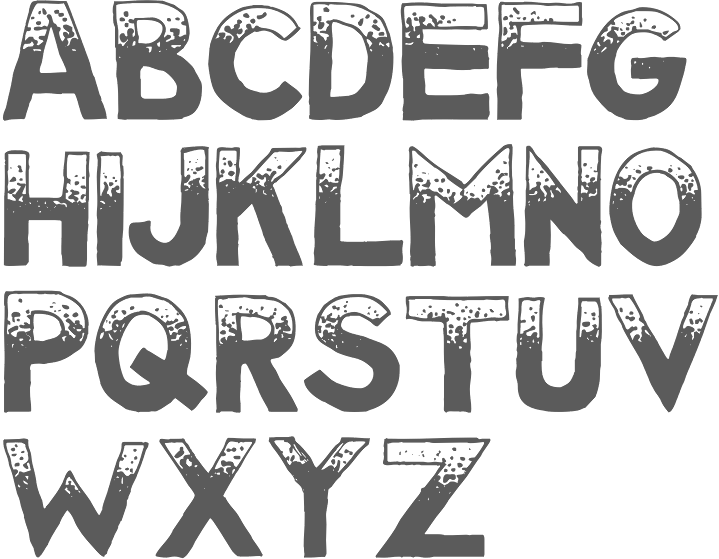 Fabrice Ducouret (Fabulous Rice, b. 1981) was a Paris-based film maker and designer. He uses the funny pseudoname Subarashi Sakana. His home town is Chatenay-Malabry but he currently lives in Berkeley, CA.
Fabrice created Kwaliteit (2007, dymo label font), Message in a bottle (a simple hand-printed face), Scrawling, Smoothie (primitive hand), Diskoboll (2002), Colcothar (2008, African bold sans), April 16 (2008, child's script), Fly Leg (another children's hand), No Futur (2008, grunge), GeoffDarrow (3d hand-printed outline face), Fabrice Handwriting, and Anthracite (2003, shaded metal surface simulation).
In 2010, he went commercial. His commercial typefaces include Tar Teen (2010, an art deco all caps family).
In 2012, he published commercial versions of these fonts: Smoothie (hand-printed), Peau Lisse (ornamental caps), Open Hype (hand-printed), Kwaliteit (grunge), Herod (grunge), Fontaine (hand-printed), Ferric (hand-printed caps), Fabrice (hand-printed), Dumb Thick (hand-printed), Deadly Thin (hand-printed), Darrow (outlined 3d face), Colcothar (a great hand-drawn poster face: based on a calligraphic alphabet I often use for my comic books, my film title sequences, or my notebooks), Bold Mine (hand-printed), Ask for Damage (hand-printed), April 16 (child's hand), Anthracite, 3X3 (dot matrix).
Sworded (2015) and Metal Cry (2015) are great layerable typeface families.
View Fabrice Ducouret's typefaces.