Protofonts (and Loosy Design) [Fabian Pfeifhofer]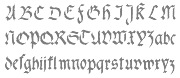 Fabian Pfeifhofer is an Italian/Tirolian designer, b. 1984. Creator of Ugloosy (2007, grunge), Loosydings Extended (2008), Karmoofel (2007, experimental; see also here), Freestyle Silouet, Funnighosts (2007, a Halloween font), Funghosts (2007), Tramyad (2007, grunge; see also here), Trashco (2007, grunge), Helvari (2007, a Helvetica-style family), Fracta (2007, a blackletter family).
Free fonts from 2006 until 2007: Blabloosy (grunge), bubbles bubbles (grunge), Loosydings, LoosydingsExpert, UntitledRegular, Freestyle-pictos, loosy-Italic, loosy-regular, mashen-Semi-expanded-Bold, ruculus-Semi-expanded-ExtraBold, ruculus (rounded futuristic face), Skirules-Sans2 (grunge), skirules-Sans-Expanded-Medium (grunge), skirules-Sans-Expanded-Medium, spikes, staccato, wing.
Typefaces from 2008: the grungy Dinstik. As Loosy Design, he also made the grunge typeface Malle (2007), Ambo Thin (2012: a monoline hipster script), loosydings-extended (2008) and the pixel typeface Blockline (2008). Creations in 2009: Slutotronic (dripping paint font), Illoosy (grunge), Training (dingbats), Camera (dings), Haloa-Heavy, Minuscula (uncial).
Dafont link. Another URL. Link at Devian Tart. Loosy Design link.
EXTERNAL LINKS
Protofonts (and Loosy Design)
Dafont page
MyFonts search
Monotype search
Fontspring search
Google search

INTERNAL LINKS
Blackletter fonts ⦿ Type in Austria ⦿ Type designers ⦿ Type designers ⦿ Sites with only a few free fonts ⦿ Dingbats (original) ⦿ Type design in Italy ⦿ Experimental type ⦿ Uncial typefaces ⦿ Pixel/bitmap fonts ⦿ Hipster fonts ⦿