Kinkido [Yoshizaku Imada]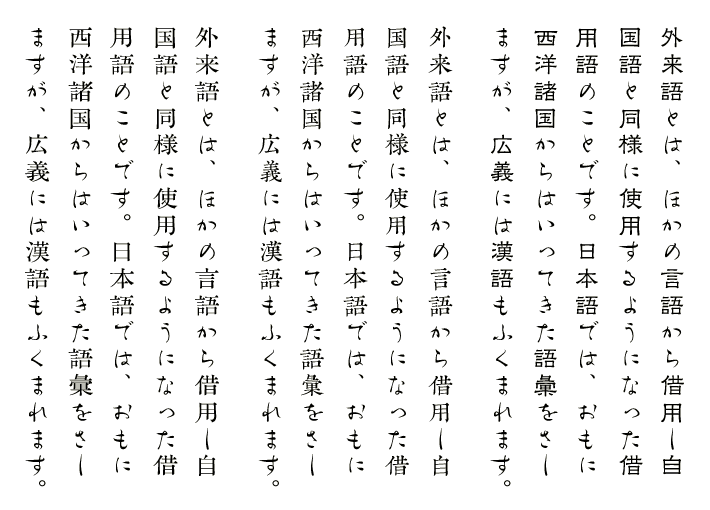 Commercial Japanese foundry that sells the typefaces of Yoshizaku Imada.
The typeface library: Seicho Mincho-tai Kinryo, Seicho Mincho-tai Kinryo B, Shincho Kankokutai Keisetsu, Shisen Souchou-tai Ryusou, Sakigake, Fumite, Shiori, Saotome, Madoka, Hokuto, Uguisu, Ishibumi, Kurofune, Yabusame, Takasago, Bateren, Genroku, Edo, Hayato, Kizahashi, Sakuragi, Kotonoha, Sayoi, Motoi, Ikehara, Manabu, Kuramochi, Hisanaga, Yukawa, Minami, Taira, Akebono, Sagano, Naniwa, Aoi, Kamome, Hanabusa, Taoyame, Kuretake, Masurao, Waji Oh Hanabusa, Waji Oh Kuretake, Waji Oh Kotonoha, Waji Taoyame, Waji Masurao, Imarisu, Pokkuru, Hatsuhiyamato, Wakabayamato, Minoriyamato, Hanarenge, Hanakocho, Hanabotan, Nanohana, Shogakukan Antique, Kana Minyu Mincho, Kana MInyu Gothic, Tsuya, Go Curl, Heisei Maru Gothic-tai, Mincho, Koran Hoso Socho, Bokassy, Imaryu, Imaso.
They have a special section on kanji fonts for children and schools.
EXTERNAL LINKS
Kinkido
MyFonts search
Monotype search
Fontspring search
Google search

INTERNAL LINKS
Type design in Japan ⦿ Type designers ⦿ Type designers ⦿ School fonts ⦿