Betterfear.us (or: XXII Fonts, Or Doubletwo Studios) [Lecter Johnson]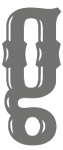 Lecter Johnson (Betterfear.us) published many free fonts between 2007-2012. At Behance, we find the name John Thorn (Germany) and a mention of Hamburg, but also a reference to Greatwhite in Beirut, Lebanon.
Typefaces: XXII Sinoz DSP (2010-2011, elliptical face), XXII Gory Bastard (2011), XXII BLACKMETAL WARRIOR (2010), XXII Menga (2010, a technical sans family), XXIIARMY (2007, stencil), XXIIDECONSTRUCTION-DESTRUCTION-AREA (2007, grunge), XXIIDONT-MESS-WITH-VIKINGS-HARDCORE (2007, octagonal), XXIISTRAIGHT-ARMY, Army Dirty (grunge stencil), XXIIUltimate-Black-Metal (2007, cracked metal look), XXII Scratch (2007, scratchy face), XXII DEVILS-RIGHT-HAND (hand-printed), XXII BLACK-BLOCK (grunge), XXII MISANTHROPIA (2008, a rigid geometric sans family), XXII Arabian Onenightstand (2008: Arabic or Indic simulation face), XXII Urban Cutouts (2009, grunge), and XXII Static (2007, futuristic).
His web site has a threatening nazi sort of look, but the fonts are (were) free. Betterfear.us claims to be located in St. Pauli, Hamburg, and is also known on MyFonts, where some of its fonts can be bought, as Doubletwo Studios. These include XXII Yonia (rounded script family loaded with opentype features), XXII Goregrinder, XXII Grober Bleistift (2013, marker font), XXII Centar (a sans family with a free regular style), XXII Totenkult (2012), XXII Blackened Wood (2013), XXII Candylove (heavy signage or packaging script), XXII Centars Sans (2012), XXII Daemon Runes (2012), XXII Total Death (2012), XXII HandTypewriter (2012), XXII Daemon (2012), XXII Marker (2011), XXII BLACK BLOCK SERIFA (2008), XXII Mescaline (2009 Western style), XXII Misanthropia (2010, geometric sans), XXII Urban Cutouts (2010), XXII Marker (2011), XXII Blasphema (2011) and XXII STREITKRAFT (2008, a stencil family with grungy versions added). Older list of fonts: Devils Right Hand (blackboard script), Black Block (grunge), Static (techno), Ultimate Blackmetal, Scratch, Don't Mess With Vikings, Army Dirty (grunge stencil), Army Straight, Black Block Eroded.
Typefaces from 2014: XXII YeahScript (signage script).
Typefaces from 2015: XXII Geom (a geometric sans typeface family), XXII Awesome Script (for signage).
Typefaces from 2016: XXII Grober Pinsel (brush typeface).
Klingspor link. Alternate URL. Behance link. Dafont link. Another Behance link. Old URL. Another Dafont link Yet another Behance link. And a final Behance link.
EXTERNAL LINKS
Betterfear.us (or: XXII Fonts, Or Doubletwo Studios)


[Buy fonts]


[Designer info]
Dafont page
Behance page
MyFonts search
Monotype search
Google search

INTERNAL LINKS
Commercial fonts (small outfits) ⦿ Sites with only a few free fonts ⦿ Type designers ⦿ Type designers ⦿ Horror fonts ⦿ Stencil fonts ⦿ German type scene ⦿ Octagonal typefaces ⦿ Arabic simulation typefaces ⦿ Indic simulation fonts ⦿ Western fonts ⦿ Blackboard type ⦿ Handwriting fonts ⦿ Typewriter fonts ⦿ Signage typefaces ⦿ Type design in Lebanon ⦿