Non-Format [Jon Forss]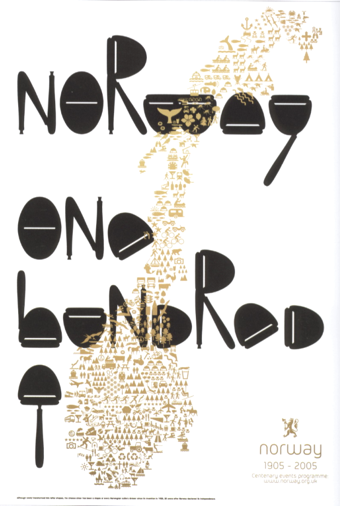 Ekhornforrss Limited / Non-Format is an Anglo-Scandinavian creative direction and design team. Creative directors and founding partners Kjell Ekhorn (from Norway) and Jon Forss (from the UK) started the company in 2000. In their own words: They work on a range of projects including art direction, design and illustration for arts&culture, music industry and fashion and advertising clients. They also art direct Varoom: the journal of illustration and made images. Nominated for Best Design Team in Music Week's Creative and Design Awards 2001. Non-Format is based in London, UK and Minneapolis, USA. In 2006, Kjell Ekhorn and Jon Forss designed a poster for the Royal Norwegian Embassy in London, which won an award at TDC 27. Their work has been published here: The Anatomy of Design, Adobe Magazine, Archive, Brain, Campaign, CD-Art, Communication Arts, Creative Review, D&AD Annual 2005, The Creator Studio, Design Week, Dos Logos, DVD-Art, Etapes, Eye Magazine, 55 Degrees North, Grafik, Graphic, Idea, IdN, It's A Matter Of Packaging, The Layout Look Book, Limited Edition, Mag-Art, Maximalism, Music Week, New Typographic Design, North by North, 1000 Type Treatments, Print, Printed Matter, Romantik, Sampler 2&3, Serialize, Sonic, Tokyo TDC Volume 17&18, Type-One, Type Specific, Typographics 4&5, Typography 27, Typography Workbook.
Typefaces by them include Heroine (2008), a titling typeface created for Very Elle Magazine, and Otto (2009, their first commercial family).
Gridiron (2013-2014) is a custom typeface family commissioned by ESPN magazine for their 2013 College Football Preview issue. Three versions of the Gridiron typeface were developed for different applications: The lightest weight, Quarterback, is used for headlines. The two bolder weights are Fullback and the more intricately structured Touchdown. These three styles cover the entire spectrum from athletic lettering to labyrinthine extravaganza.
The hipster typeface Coleman Air (2015) is a special version of their Nomi typeface, created for Coleman's Japanese catalogue of outdoor gear.
In 2017, for SModa Magazine, they designed the summa cum laude partly curvy typeface Sølve.
EXTERNAL LINKS
Non-Format
Behance page
Klingspor Museum page
MyFonts search
Monotype search
Fontspring search
Google search

INTERNAL LINKS
Commercial fonts (small outfits) ⦿ The Norwegian type scene ⦿ Type scene in Minnesota ⦿ Type designers ⦿ Type designers ⦿ Type design in the United Kingdom ⦿ Corporate typefaces ⦿ Athletic lettering faces ⦿ Labyrinthine fonts ⦿ Corporate typefaces ⦿ Fashion mag typefaces ⦿ Hipster fonts ⦿