Pedro Díaz Morante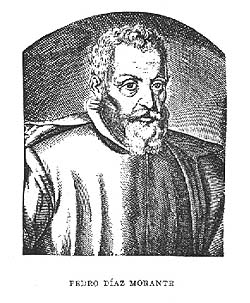 Spanish penman, calligrapher and engraver, 1565-1636. He lived in Toledo from 1591 on and moved to Madrid in 1612. He published Arte nueva de escribir in which he explains his system for teaching cursive writing, published in five volumes between 1615 and 1631. He was respected as a great penman, who, incidentally, was ambidexterous.
Scans: a calligraphic drawing of Felipe IV in 1624, a Spanish Bastarda (1624), a chancery hand (1630).
For digital typefaces based on Morante's work, check out Ramiro Espinoza's Dulcinea (2012).
EXTERNAL LINKS
MyFonts search
Monotype search
Fontspring search
Google search

INTERNAL LINKS
The Spanish type scene ⦿ Calligraphic typefaces ⦿ Penmanship ⦿ Chancery hand, cancellaresca ⦿ Bastarda / B&acirctarde / Schwabacher ⦿ Uncial typefaces ⦿