Fewell Foundry [Martin Fewell]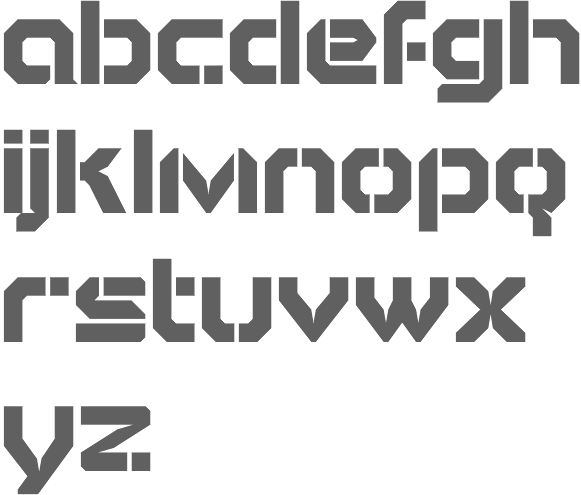 Martin Fewell is the type designer who started the Fewell foundry in London, and who runs MartinFewell.com and Yolo in Manchester. Martin is also a part time Lecturer at The University of Salford and Chelsea School of Art and Design. His techno fonts are available from [T-26]: Assembler (2004, a paperclip face), Mechwar (2002), Techstep (2002), Sushi (2002), Synthesis (2002, a techno font family) and Turbo (2002).
And now also from MyFonts.com: Memory (a sensational techno font, 2003), Exhaust (2002), Kanister (2003), Datastream (2003, an octagonal font) and the military octagonal stencil font Airbrake (2003). At Union Fonts, he published Memory, Airbrake (octagonal stencil font), Exhaust, Datastream and Kanister in 2003. At Yolo, one can ogle and buy his typefaces: Airbrake (mecahical face), Airframe, Assembler, Datastream (octagonal), Delicious, Exhaust, Insatiable, Kenister (octagonal), Lovebeing, Mechwar, Memory (experimental, techno), Newart, Nova, Rapture, Sushi, Synthesis (techno), Techstep, Turbo.
EXTERNAL LINKS
Fewell Foundry


[Buy fonts]


[Designer info]
Monotype link
Klingspor Museum page
MyFonts search
Monotype search
Fontspring search
Google search

INTERNAL LINKS
Type designers ⦿ Type designers ⦿ Commercial fonts (small outfits) ⦿ Stencil fonts ⦿ Pixel/bitmap fonts ⦿ Octagonal typefaces ⦿ Octagonal typefaces ⦿ Sci-Fi fonts ⦿ Type design in the United Kingdom ⦿ Paperclip faces ⦿ Military typefaces ⦿