Afrojet Type Foundry [John Skelton]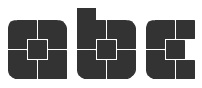 John Skelton is a type designer from St. Paul, MN, b. 1973. He is currently based in Portland, OR. He started out in 2008 as afrojet on FontStruct, making many free fonts there. Late in 2009, he set up Afrojet Type Foundry at MyFonts.
FontStructions in 2008: Playtime (an original stencil family), Playtime Pattern Motifs (dings), Playtime Rounded (+Bold), Playtime Cutouts, Mango Solid (ultra fat, rounded), Mooch (experimental), Mooch Squared, Zombies Are The New Black, Jettison Stencil, Micromoog, hewett, hewett_bold, hewett_extended, Mikey (a Mickey Mouse font). Other creations there include Summer Grillz (about which he writes More gangster than Gill with more gold than Garamond, Summer Grillz is type jewelry for your mouth. All letterforms are diamond-kut using the finest type constructing software on the market today. Customize your grill with different fills., Lovestruc, Konstruct (multiline face), Steeplechase, Sawhorse, Sawhorse Braumarks (dingbats of a brewery), Alfred, Chesterfield, Hydroplane, Jettison-Stencil, Pop-Drops (kitchen tile face), Starstruc, Lovestruc, Chesterfield Prince, Chesterfield King, Chesterfield Queen (piano key font), Brainfreeze (ultra fat).
Fontstructions in 2009: the Sans Serious family (a tribute to Dutch Bauhaus designer Jurriaan Schrofer), Factory (stencil), Hunstrüct (blackletter), Slug, Micromoog Remix, Get To The Falcon, Jetstream and Perforate (octagonal, loosely based on several styles of letter and numeral forms observed on various aircrafts at the Evergreen Aviation&Space Museum in McMinnville, Oregon), Get To The Falcon (multiline face), StacheStruct (moustache font), Factory (stencil), Playtime Bolda, Thunderball, Gaga, Gaga Stencil, Pinpression, Sessions (a take on type by Josef Albers; he writes: Having previously played around in Fontstruct with Anni Albers' textile patterns, I thought it time to turn my attention to her husband Josef's work. Josef Albers' constructivist typographic experiments are a perfect match for Fontstruct. Other Fontstructors have done great work with Alber's ideas. Most notably, Saberrider's fontsract and Stewf's Leaflet family. Using Josef Albers' Kombinationsschrift alphabet (1928-1931) as my foundation, I've been having a lot of fun remixing and experimenting with his letters.).
Fonts made in 2010: Whoopee (piano key face), Prog.
Commercial fonts: Sessions (2009, modular).
The commercial fonts by Afrojet type foundry include Sessions, Playtime, Hydroplane, Lovestruc, Dansa, Pinpressions, Micromoog, Widjiwagen, Mooch, Hunstrüct, Slug, and Brutal Exchange.
EXTERNAL LINKS
Afrojet Type Foundry


[Buy fonts]


[Designer info]
Dafont page
Behance page
Klingspor Museum page
MyFonts search
Monotype search
Fontspring search
Google search

INTERNAL LINKS
FontStruct fonts ⦿ Stencil fonts ⦿ Kitchen tile fonts ⦿ Dingbats (original) ⦿ Octagonal typefaces ⦿ Type scene in Oregon ⦿ Type designers ⦿ Type designers ⦿ Type design and constructivism ⦿ Blackletter fonts ⦿ Stencil fonts ⦿ Type scene in Minnesota ⦿ Bauhaus and type design ⦿ Piano key typefaces ⦿ Sites with only a few free fonts ⦿ Cutout or paper-cut typefaces ⦿