Oh No Type [James T. Edmondson]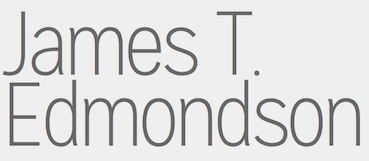 Oakland, CA-based designer, whose company is called Oh No Type. In 2011, he was a student at California College of the Arts in San Francisco. Graduate of the Type & Media program at KABK in Den Haag in 2014. Before that, he was based in Leeds, UK. James teaches Type at Cooper West. In 2018, James co-founded Future Fonts, a platform for distributing fonts in-progress. Typefaces:
2008: at FontStruct of the blackletter typeface Eclyptico and of Mopper.
2010: Edmondson, Dode (script).
2011: Edmond Serif (in progress) is being designed in Rod Cavasos Type Design class at CCA. Edmond Sans (2011) is a headline all caps sans face. Duke (Lost Type) is a beveled typeface based on the signage for the Cup and Saucer Luncheonette in New York. Wisdom Script (Lost Type) was originally designed for Woods of Wisdom, a 50 part poster series on bad advice. Working on a roman caps version in Ed Interlock style. Lavanderia (2011, free at Lost Type) is a signage script family inspired by fancy laundromat lettering in San Francisco's Mission District.
2012: Edmond Sans (Lost Type).
Mission Script (2012) is a connected signage script, also inspired by lettering in San Francisco's Mission District.
2013: Mission Gothic. Influenced by wood types, this sans was co-designed with Trevor Baum.
2014: Covik, his graduation typeface at KABK. He writes: Covik was designed with the goal of creating a small text family with complimentary display typefaces which work together to create a rich typographic palette. How divergent could a style be while remaining kindred? In what ways could weight, width, proportion, and construction be played with in order to create a varied family? See also Covik Sans Mono.
2015: Hobeaux (a take on Morris Fuller Benton's art nouveau typeface Hobo), Viktor Script (a retro script done with Erik Marinovich). Accompanied by Hobeaux Rococeaux (2016).
2016: Vulf Mono (Vulf Mono is the official typeface of Vulfpeck, a funky four-piece rhythm section from Ann Arbor, Michigan. The typeface draws main inspiration from 12 point Light Italic, a font for the IBM Selectric typewriter.)
Year unknown: Bordeaux Script.
2018: Obviously, Eckmann Psych (a psychedelic take on Otto Eckmann's art nouveau type), Ohno Blazeface, Cheee (a variable font).
2019: Nonplus (counterless script), Primarily Script (a children's book font), Coniferous (based on signage at American National Forests).
2020: Compadre (an all caps sans typeface), Fatface (in the true didone fat face tradition, with delicious conniving outlines), Swear (an experimental serif with rotated pen angle).
Klingspor link. Behance link. Dribble link. Old home page. Future Fonts link.
EXTERNAL LINKS
Oh No Type
Behance page
Klingspor Museum page
MyFonts search
Monotype search
Fontspring search
Google search

INTERNAL LINKS
FontStruct fonts ⦿ Blackletter fonts ⦿ Type designers ⦿ Type designers ⦿ Type design in the United Kingdom ⦿ Type scene in California ⦿ Signage typefaces ⦿ Wood Type ⦿ Commercial fonts (small outfits) ⦿ Art Nouveau typefaces ⦿ Morris Fuller Benton ⦿ Typewriter fonts ⦿ Variable fonts ⦿ Experimental type ⦿ Children's handwriting fonts ⦿