David Neustadt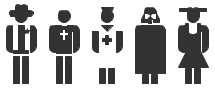 David Neustadt ("saberrider") is the designer who used FontStruct in 2008 to make the experimental fonts Eye Pain, Colorblind, Big Blue (like IBM's stripes), Cord, Fontsract (a nice stencil face, based on piano keys), Dice (great; based on an idea of Daniel Pelavin, 1996), Blux (liquid crystal), Blockiger (octagonal), athletica (athletic lettering), divided (two lines, octagonal), edgewalker (heavy slab serif), geomatrix (filled-in letters), olympica. Other creations include Picto People (2008, a great people figure dingbat font), Carmack (2008, octagonal), Pluto (2008, white on black), Pluto Lowercase, Arena Berlin (2008), Katja (2008), Average (2008), Unbalanced (2008), Solido (2008, based on Ata Syed's FS Minimal), Noise (2008, grungy school letters), and Diagonalis (2008, diagonally striped letters).
In 2009, he added Hexastruct, Curvy, Genero (fat face), Plagiacotti (Western saloon font, based on Manicotti, 2007, by David Jonathan Ross), Rasterman (+Bold) (gray effect fonts), Krummbein, Cohen, Mister N (handwriting), Monobono (shadow face), Letter Case, Mikado (3d-stroke font), Boulder (ultra-fat), Night Shift (semi-stencil), Tuvalua, Ripper (fat, counterless), Poff, Blackstruct (blackletter), Borders and Borders2 (outlines of countries).
Typefaces from 2010: Squeeze, Puncture (dot matrix outlined), Yobbo (condensed, counterless).
Typefaces from 2012: Thunderdome.
EXTERNAL LINKS
David Neustadt
MyFonts search
Monotype search
Fontspring search
Google search

INTERNAL LINKS
FontStruct fonts ⦿ Octagonal typefaces ⦿ Stencil fonts ⦿ Experimental type ⦿ Type designers ⦿ Type designers ⦿ Dingbats (original) ⦿ Children's handwriting fonts ⦿ Western fonts ⦿ Handwriting fonts ⦿ Blackletter fonts ⦿ 3D fonts ⦿ Piano key typefaces ⦿ Hexagonal typefaces ⦿