Mintea.org [Andrea Bergamini]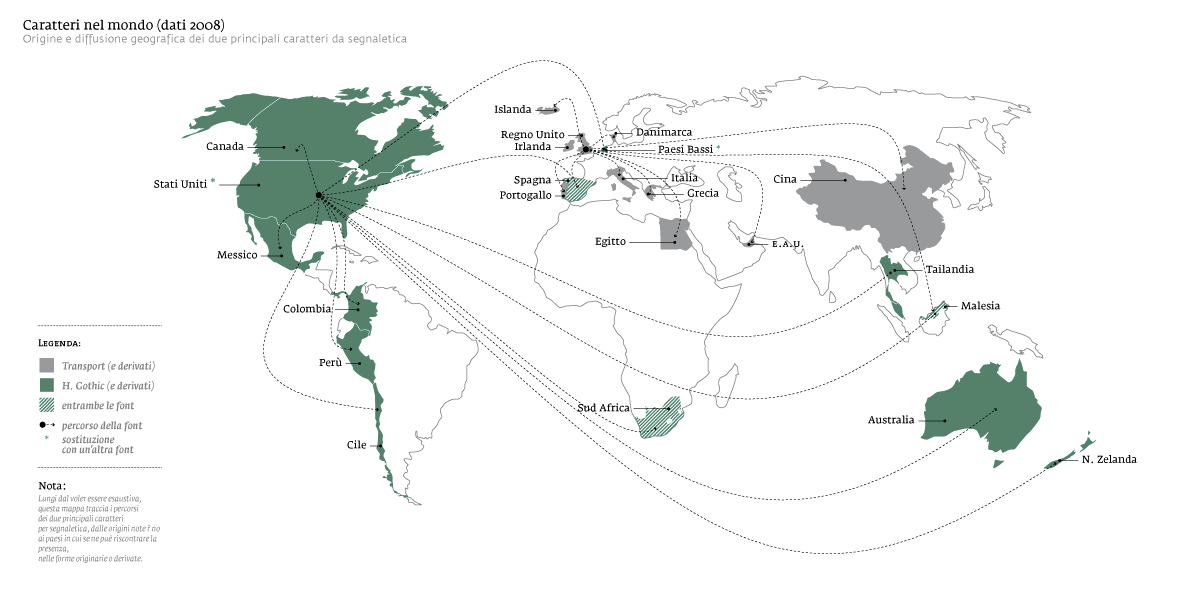 Masters degree student (b. 1983) at the Politecnico di Milano, who specializes in signage, wayfinding and information design. He researches traffic system fonts and typography. His Flickr page has scans of the Italy's Codice della Strada which dictates street type in Italy, and features his world map which shows the origin and the different "routes" taken by the two main typefaces used in world signs: the American Highway Gothic, published by the traffic engineer Ted Forbes in 1945 and the British Transport type by Jock Kinneir and Margaret Calvert, published in 1963. He also has photographs of traffic signs. Creator of the free family Flaminia (The League of Movable Type, 2009; see also here).
He writes: Flaminia is a 2008 opensource project started as a Master Degree Thesis by Andrea Bergamini, an Italian graphic designer annoyed by the chaotic and poorly designed road signage system in his country. The leading idea was that tests taken in real-life conditions are the only way to validate the design of a font to be used for signage and that the final solution should always come from all of the modifications derived by those experiments. These considerations led to the design of Flaminia, a typographical system that allows its users and its future designers to quickly morph (through the use of Multiple Master axes) different variants of the glyphs. By allowing minimal changes of only one variable in the letter shapes, Flaminia also provides a tool to study which are the most relevant factors in the process of reading signs, and can be used free of charge for further researches in this field.
EXTERNAL LINKS
Mintea.org
MyFonts search
Monotype search
Fontspring search
Google search

INTERNAL LINKS
Type designers ⦿ Type designers ⦿ Type design in Italy ⦿ Map/Travel dingbats ⦿