Lucijan Bratuš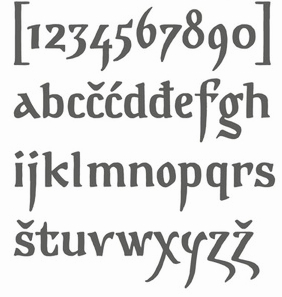 Slovenian painter and artist (b. Vipava, 1949). Designer of Rokus and Rokus Script (2002) for schoolbooks published by Rokus Publishing House. Professor of type design. Creator of the calligraphic typeface Kanela (2006). Cofounder of the TipoBrda type design conferences, held annually since 2006 in Slovenia. TipoBrda 2006. Designer of the art deco typeface Čiginj during the design workshop TipoBrda in 2008.
At TipoBrda 2007, he showed Kanela.
At TipoBrda 2011, he created the geometric sans family Makalonca.
At Tipo Brda 2010, he designed the Slova OT family of old Slavonic typefaces. That family includes one gorgeous Latin typeface that simulates old Slavonic.