Juan Casco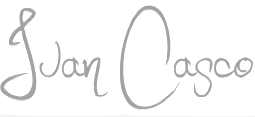 Designer from from Puyo, Ecuador, b. 1991, known as Darko Juan. He made numerous free fonts.
Creator of these typefaces:
Amazonica (2009) is a curlified roman face.
Artesanias (2011).
Básica (2010, an organic octagonal sans done with FontStruct) and Básica Unicode (2010).
Black Audio (2010): gridded.
Bohemia (2010): grunge face.
Borracho (2009).
Bosque Encantado (2010).
Cabaret (2011).
Chave (2010) and Gato (2010) are hand-printed typefaces.
Colonial (2010).
Cuneiforme (2010): cuneiform simulation face.
The scary gothic typefaces La Flama y La Espina, Pasión Acústica (2009), Dark Pix (2010, FontStruct), Goth Stencil (2009, blackletter stencil), Goth Stencil Premium (2009), Ming Imperial (2009) and Ming Gothic (2009, was Chino Gotico before that). The latter two typefaces have an Asian look. Pasion Gotica (2010, FontStruct).
Fam Fuerte (2011, grungy).
Furia&Venganza (2011). A tattoo face.
Hangul Love2 (2010).
La Rosa Muerta (2010).
Lejana (2010): a curly script.
Linexter (2013). A vintage typeface.
Luismi Murder (2009).
Magical Dreams (2011).
Mobile Sans (2015).
Narn Font (2011). Inspired by The Chronicles of Narnia.
Ninja Turtles (2014) and Guardians of the Galaxy (2014). Sci-fi typefaces.
No Hubo Tiempo (2009) is a timid handwriting face.
PercanceFatal (2009).
Pixel typefaces: Code 7x5 (2015) and Code 8x8 (2016), Trium (2010), DarkPix (2009, done with FontStruct).
The blackletter typefaces Por Siempre Gótica (2011), Artesanias (2011), Fraktura (2011), Neue Goth (2011), Estilographica (2011).
The curly scribbly typefaces One Wild Line (2012), Romance Fatal 2.0 and 3.0 (2009, based on his own hand), Romance Fatal Pix (2010), Romance Fatal (2009, +Serif), Romance Fatal Goth (2009), Romance Fatal Sans (2011), Romance Fatal Serif Pro (2017).
Rounded Sans (2014).
Scars Before Christmas (2010).
Schindler's Font (2011). Inspired by the movie.
Sucker Font (2011). A metal band face.
Tatida Versal (2009), Tatida Rocking (2009).
Tattoo Sailor (2010).
A custom font for Teller Of Tales: A Fib Fit For A King, a 2011 movie by Woody Lindsey.
The Fire Regular (2011).
Tipófila (2010).
Valle Lejano (2010, FontStruct).
Verde Amazonico (2011).
Versal-Gothic (2009).
Xefora (2011). A spindly blackletter.
Schindler's Font (2011). Based on the movie sequence.
Frozen Font (2014) is also movie-inspired.
Viaje Script (2015).
The Marauders (2015). A pirate typeface.
Camomila (2015). A feminine script.
Jupiter Serif (2015). Based on the titling of the movie Jupiter Ascending.
Symphony Script (2015).
Erie Roman (2014). A roman caps typeface.
Ancient War (2015). Inspired by the movie War Craft.
Guayaba Sans (2016).
Letra Hipster (2016). A signage script.
Slim Chef (2016).
Verde Sans Neue (2017).
Legends of Tomorrow (2017) and Legends Sans (2017). Sci-fi style.
Ragnarok Serif (2017).
Ecuador Handscript (2018).
Behance link. Devian tart link. Home page. Dafont link. Old home page. Fontspace link. Abstract Fonts link. Creative Market link.
EXTERNAL LINKS
Juan Casco
Dafont page
Fontspace page
Behance page
Creative Market page
MyFonts search
Monotype search
Fontspring search
Google search

INTERNAL LINKS
Type designers ⦿ Type designers ⦿ Handwriting fonts ⦿ Horror fonts ⦿ Type design in Ecuador ⦿ FontStruct fonts ⦿ Blackletter fonts ⦿ Stencil fonts ⦿ Oriental simulation fonts ⦿ Pixel/bitmap fonts ⦿ Octagonal typefaces ⦿ Movie fonts ⦿ Cuneiform simulation typefaces ⦿ Sites with only a few free fonts ⦿ Tattoo fonts ⦿ Sci-Fi fonts ⦿ Typefaces inspired by the Trajan column in Rome ⦿ Commercial fonts (small outfits) ⦿ Curly typefaces ⦿ Hipster fonts ⦿