Florin Florea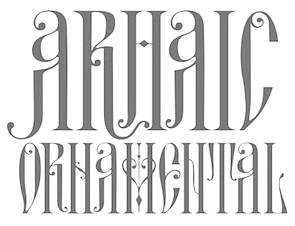 Romanian graphic designer (b. 1963, Timisoara) who lives in Cluj-Napoca, and graduated in 1992 from the University of Arts and Design in Cluj-Napoca. He teaches in the Design Department of the University of Art and Design in Cluj-Napoca.
Creator of these typefaces:
Columnion (2015). A free Greek column-inspired typeface designed together with Mihnea.
Kogaion SC FR (2011). Medieval lettering.
Friends (2009). A dandy serifed typeface.
The calligraphic brush script Manualito Flo (2011).
Archaic Romanesc and Archaic Cali. These typefaces are based on types found in Romanian calligraphy books from ca. 1930. See also ArchaicOrnamental (2009) which is based on a poster from 1975 by Aurelian Petrescu. Check also Alphabattle S (2010).
The Arhaic series, all Latin typefaces in the old Slavonic style: Arhaic Miron Costin, Arhaic Boier (2012), Arhaic Atanasie, Arhaic Arnota.
Manastirea Dealu.
Dafont link. Behance link. Fontspace link. Wordpress link. Abstract Fonts link. Home page.
EXTERNAL LINKS
Florin Florea
Dafont page
Fontspace page
Behance page
MyFonts search
Monotype search
Fontspring search
Google search

INTERNAL LINKS
Type designers ⦿ Type designers ⦿ Type design in Romania ⦿ Brush script typefaces ⦿ Calligraphic typefaces ⦿ Sites with only a few free fonts ⦿ Cyrillic simulation fonts ⦿