Viennese Secession (or: Vienna Secession)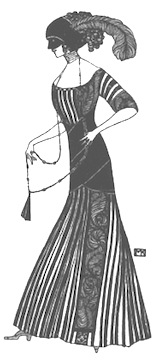 The Vienna Secession---also known as the Union of Austrian Artists, or Vereiningung Bildender Künstler Österreichs---was formed in 1897 by a group of Austrian painters, sculptors, and architects who had resigned from the Association of Austrian Artists: Gustav Klimt, Koloman Moser, Josef Hoffmann, Joseph Maria Olbrich, Max Kurzweil, Otto Wagner, and others. The first president of the Secession was Gustav Klimt, and Rudolf von Alt was made honorary president. In 1898, the group's exhibition house was built in the vicinity of Karlsplatz. Designed by Joseph Maria Olbrich, the exhibition building soon became known simply as die Sezession. This building became an icon of the movement.
The secession building displayed art from several other influential (art nouveau) artists such as Max Klinger, Eugene Grasset, Charles Rennie Mackintosh, and Arnold Bocklin. Secessionists not mentioned above include Josef Maria Auchentaller, Rudolph Bacher, Peter Behrens, Marcus Behmer, Adolf Böhm, Paul Bürck, Hans Christiansen, Johannes Cissarz, Carl Otto Czeschka, Josef Diveky, Max Fabiani, Remigius Geyling, Willi Geiger, Richard Gerstl, Albert Paris von Gütersloh, Josef Hoffmann, Ludwig Hohlwein, Moriz Jung, Gottlieb Theodor von Kempf, Julius Klinger, Leo Kainradl, Oskar Kokoschka, Max Kurzweil, Oskar Laske, Bertold Löffler, Heinrich Lefler, Mila Von Luttich, Burkhard Mangold, Carl Moll, Alphonse Mucha, Joseph Maria Olbrich, Bruno Paul, Joze Plecnik, Emil Preetorius, Erwin Puchinger, Alfred Roller, Malva Schalek, Egon Schiele, Othmar Schimkowitz, Jan Toorop, Heinrich Vogeler.
EXTERNAL LINKS
Viennese Secession (or: Vienna Secession)
MyFonts search
Monotype search
Fontspring search
Google search

INTERNAL LINKS
Art Nouveau typefaces ⦿ Type in Austria ⦿ Typefaces related to Egon Schiele ⦿