ps type (was: ppwrkstudio) [Mark Caneso]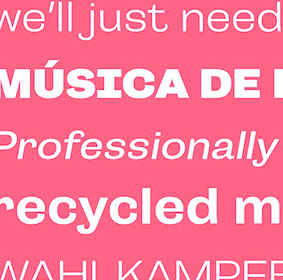 Mark Caneso is a graphic and type designer who lived in Garden Grove, CA, and Kapolei, HI, and is now in Beaverton, OR. He founded ppwrkstudio (or: ps type) in 2004. Typefaces include the free sans Quatro and the commercial contemporary sans FB Ratio (2009, Font Bureau, a sans family in 6 styles that grew out of ps Ratio and ps Ratio Headline). In 2009, Quatro became commercial. It was followed by ps Quatro Slab and Quatro Ultra Black in 2010 and Quatro Sans in 2012.
Other typefaces include Campaign Grotesk (2015, FontShop), ps Caneso (2010, monoline sans), Runda, ps Untitled, ps Untitled Sans, ps Turiya Light (2009, organic sans), ps Runda (2010, sans), ps Neplus Ultra (2010, ultra thick slab), ps Dot Test (dot matrix face), and ps Fovea (2009, contemporary slab). Also in the works is the dot matrix typeface FF Diode (2009).
Typefaces from 2016: Hatch (slab serif, which can be bought here).
Typefaces from 2017: Ditch (a great inline typeface), Blue Sky (a sans family for branding).
Cargocollective link. Behance link. Klingspor link. Old URL.