Photo-Lettering Inc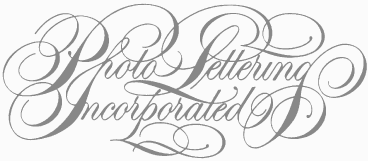 A subsidiary/part of House Industries in Yorklyn, DE. I quote: Photo-Lettering was a mainstay of the advertising and design industry in New York City from 1936 to 1997. PLINC, as it was affectionately known to art directors, was one of the earliest and most successful type houses to utilize photo technology in the production of commercial typography and lettering. It employed such design luminaries as Ed Benguiat and sold type drawn by the likes of Herb Lubalin, Milton Glaser and Seymour Chwast as well as countless other unsung lettering greats. The company is best known by most of today's graphic designers for its ubiquitous type catalogs. Physically, the collection takes up about 1500 cubic ft (42 cubic meters) of space and consists of film negatives and positives of most of the 6500 fonts produced in the company's 55 years. There are also countless patterns, cartouches, borders and dingbats, all of which have been preserved in film negative form. Each negative is approximately 28 in (71 cm) by 5 in (13 cm) high. House Industries, a Yorklyn, Delaware-based independent type foundry, purchased the entire physical assets of Photo-Lettering in April of 2003. Through a partnership with Ken Barber, Christian Schwartz and Erik van Blokland, House Industries is carefully digitizing select alphabets from the collection and plans to offer them through a modern web-based interface. The Photo-Lettering interface has allowed us to reach beyond the rigid confines of typography to offer extended features such as layering, color control and multiple master interpolation over six axes. With some of the most talented minds in display typography behind this new display lettering system, users of the system will enjoy the same refined typography as the original Photo-Lettering customers.
A snapshot of their production, as of mid 2012, in alphabetical order:
Atrax. A Mexican simulation typeface.
Aztec. A videogame typeface.
Banjo Playbill. A tear drop typeface.
BenguiatBuffalo. By Ed Benguiat.
BenguiatCaslon, BenguiatCaslonOutline, BenguiatCaslonPlain. By Ed Benguiat.
PL Brazilia (sans).
BrodovitchAlbro.
Carlyle Eventide. A 3d titling face.
CarusoRoxy.
CopelandMilo. A connected script by L.H. Copeland.
CopelandTrilliumFills, CopelandTrilliumOutline. A beveled prismatic typeface by L.H. Copeland.
DARegatta. A flared didone.
DAmicoGothic. A casual flared typeface.
DavisonBaroque. A Western / Tuscan typeface.
FederalTwelveDiagonal, FederalTwelveHorizontal. These are engraved copperplate typefaces.
PL Fiorello (squarish sans).
Galaxy Didot (based on a didone typeface by C.E. Coryn).
Goliath. A fat Egyptian typeface with a wood style flavor.
HanoverBold. A nice Fraktur typeface.
HaslerCircus. A Tuscan circus font.
HenrionBA. A beveled typeface with several layers.
HouseGothicWide. A shaded unicase typeface.
Housebroken. A two-layer stencil caps face.
Mierop Inline. A bilined art deco typeface.
Millstein Flourish. A beautiful tall-descender typeface.
Neutra Inline, Neutra Thin. Neutra Thin is a phenomenal geometric hairline sans.
Norton Slapstick. A wood simulation typeface by S.E. Norton.
Norton Tape. A stencil paper-fold typeface by S.E. Norton.
Quaint. After an ornamental typeface from 1938 by Paul Carlyle and Guy Oring.
Quintet. A calligraphic connected script
Raymund Circus (+Inline, +Outlined).
Smidgen. A signage face.
Sodachrome.
SuperstarScript. A bubblegum typeface.
SwissInterlock.
SwissTwoTone. A display sans with two layers.
Tiki Palms.
TimesSquare. A dot matrix typeface.
Tuggle. An oil slick typeface.
Voodoo House.
PL Westerveldt. A sans revived by Monotype.
WestBarnumUltra, WestBarnumUltraDrop. A fat Egyptian typeface by Dave West.
WestBehemoth, WestBehemothItalic. Egyptian typefaces by Dave West.
WestEmperorScript. A fat didone by Dave West.
WestThud. A fat signage typeface by Dave West.
West Elephant. By Dave West.
West Italiano. A didone by Dave West.
West Kerpow. A comic book typeface by Dave West.
EXTERNAL LINKS
Photo-Lettering Inc
MyFonts search
Monotype search
Fontspring search
Google search

INTERNAL LINKS
Commercial fonts (small outfits) ⦿ Type scene in Delaware ⦿ Photo and film type era ⦿ Bubblegum typefaces ⦿ Modern style [Bodoni, Didot, Walbaum, Thorowgood, Computer Modern, etc.] ⦿ Blackletter fonts ⦿ Calligraphic typefaces ⦿ Stencil fonts ⦿ Mexican simulation typefaces ⦿ Very thin (hairline sans) typefaces ⦿ Western fonts ⦿ Art deco typefaces ⦿ Pixel/bitmap fonts ⦿ Comic/cartoon fonts ⦿ Signage typefaces ⦿ Tear drop terminals ⦿ Wood Type ⦿ 3D fonts ⦿ Prismatic typefaces ⦿ Copperplate ⦿ Hawaiian (tiki) fonts ⦿ Caslon ⦿ Aztec typefaces ⦿ Circus fonts ⦿ Tuscan fonts ⦿