Wes Wilson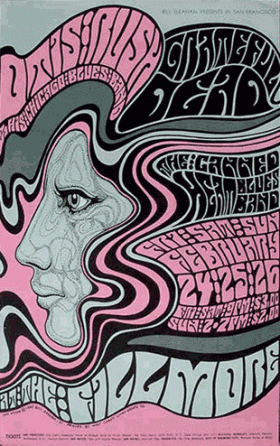 Robert Wesley Wilson is a psychedelic era poster artist, b. Sacramento, CA, 1937. He now lives in Aurora, MO. Colin Brignall writes: His most favoured form of lettering developed as a direct influence of Alfred Roller's lettering for an exhibition of Secessionist design in 1903. This lettering was generally rectangular in form and therefore ideally suited for Wilson whose work often involved wrapping words around predetermined, free-flowing areas in order to fill up space. White space being considered bete noire to the psychedelic poster designer whose style of work was intended as a reaction to the prevailing clean Swiss style of typography! Colin concludes: Wes Wilson disappeared from the San Francisco scene as quickly as he and his contemporaries and their highly individual art form breezed in, heading for the Ozark mountains in Missouri in the early 1970s to live, apparently, a reclusive lifestyle. [...] His legacy though is an incredible art form that forty-five years on is revered as truly classic of its time. Wilson's style is also known as the Fillmore Poster lettering style.
Several typefaces were made that are based on Wes Wilson's lettering. These include Wes Wilson (2007, Keith Bates), Mojo (1996, Jim Parkinson, Adobe), Butterfield (1993, David Nalle), Genie (2006, Rebecca Alaccari, Canada Type), Jonah (2005, Rebecca Alaccari, Canada Type), Roller Poster (2006, HiH: named after Alfred Roller), and Peace and Love Solid by Leslie Cabarga.
View some of the digital typefaces that are based on Wes Wilson's work. Facebook link.
EXTERNAL LINKS
Wes Wilson
MyFonts search
Monotype search
Fontspring search
Google search

INTERNAL LINKS
Psychedelic types ⦿ Type scene in California ⦿ Type scene in Missouri ⦿