Letters en Plaatjes [Thijs Mertens]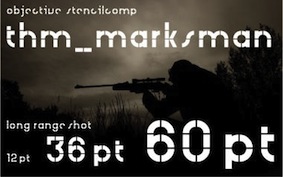 Thijs Mertens is a Dutch designer in Arnhem who runs the design studio Letters en Plaatjes since 2009. He used FontStruct in 2009 to create ThM PurSans, ThM BlackBox (stencil), ThM For Minimal, ThM Papercut, ThM Concept, ThM Monomode, ThM Firefly, and ThM Freaktur (sic).
In 2011, he made ThM Trade Stencil, ThM Tomahawk, ThM Thin (thin and octagonal).
In 2012, he added ThM Toronto, ThM SPQR (athletic lettering), ThM Bone, ThM Tibetan (blackletter), ThM Trade (slabby), ThM Tulipe, ThM Mini, ThM LCD.
Typefaces from 2013: ThM Liga, ThM Architype Albers, ThM Marksman (stencil face).