chr_s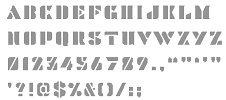 Designer who used FontStruct in 2009 to create Staring at the Sky, Early Bird Catches The Worm, Bernstein, Plaskett, Fimbriae, Hard Light, Inauguration, Kunchey Wide, Kunchey, Worst Seats in the House, Burden and 2x2 Struct (pixel-geometric art deco).
Faces made in 2010: Sweet Henry (compact, rounded), Bobolink, Carapace, Riley (optical illusion face), Overfeed (Futura-inspired stencil), Corpus Torsion, Penkala, Mongrel, Guayule (attractive ultra fat didone), Filamentous, Dizygotic (squarish sans), Decorum (condensed display face).
Faces from 2011: Sam Sleeps (in the style of Impact), Trepan, Tools of the Trade (dingbats).
Typefaces from 2012: Pilaster (influenced by Yakov G. Chernikov), Pochoir (stencil face), Tourniquet.
EXTERNAL LINKS
chr_s
MyFonts search
Monotype search
Fontspring search
Google search

INTERNAL LINKS
FontStruct fonts ⦿ Pixel/bitmap fonts ⦿ Art deco typefaces ⦿ Stencil fonts ⦿ Modern style [Bodoni, Didot, Walbaum, Thorowgood, Computer Modern, etc.] ⦿ Dingbats (original) ⦿ Cyrillic simulation fonts ⦿