Abyme [Charles Mazé]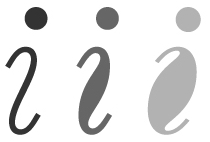 Abyme was founded by Charles Mazé, a graduate of the Type and Media program at KABK, 2009. There, he designed a didone typeface (Bat Font) that has more warmth than classical didones in the hope of making scientific texts set in modern typefaces less boring. He did this by fattening up the italics. After graduation he moved to Brussels. In 2009, he started a revival of Mercator, a sanserif typeface by Dick Dooijes and G. W. Ovink designed in 1959 at the Amsterdam Type Foundry.
He set up Cataloged in Brussels with Coline Sunier. In 2012, Stéphanie Vilayphiou, Alexandre Leray, Coline Sunier and Charles Mazé co-designed the readable typeface Dauphine Regular, which can be downloaded from Github and Open Font Library. See it in action on the web site of ESAD (Ecole Supérieure d'Art et de Design). Dauphine is a sans-serif font inspired by lettering in late 19th and early 20th century maps. Github link for Dauphine.
Typefaces at Abyme:
English Egyptian (2011-2017). English Egyptian is an interpretation of William Caslon's Two Lines English Egyptian of 1816, considered by some to be the first sans serif printing type to be sold commercially. Designed by John Morgan and Adrien Vasquez.
Nizioleti (2011-2017). Designed by John Morgan and Adrien Vasquez. Named and modeled after the nizioleti, or Venetian street signs, Nizioleti is typeface consisting of painted letters stencilled within white plaster panels directly onto the city walls, in use since the early 19th century.
Berthe (2011-2018). Berthe is designed after another typeface called Série no. 16, whose first cuts were produced at the end of the nineteenth century by the Parisian type foundry Deberny & Peignot. It was engraved by Constant and Auguste Aubert under the direction of Charles Tuleu, the adoptive son of Alexandre Deberny whose mother, Laure de Berny, had bought from her lover Honoré de Balzac the printing house he didn't manage to transform in a profitable company. Série no. 16 quickly became a popular choice among printers and found its way into many editions of classic and popular texts. Review by Hrant Papazian, who wrote that it presents a congenial evolution of the theatrical Didone style of type. Lower contrast, fluid structures, humane proportions. It is like a Didot or Bodoni taking leave of the catwalk and relaxing among friends..
EXTERNAL LINKS
Abyme
MyFonts search
Monotype search
Fontspring search
Google search

INTERNAL LINKS
Type designers ⦿ Type designers ⦿ The Belgian type scene ⦿ Type design in France ⦿ Modern style [Bodoni, Didot, Walbaum, Thorowgood, Computer Modern, etc.] ⦿ Commercial fonts (small outfits) ⦿