William Simmelkiær Skriftstøberi [William Simmelkiær]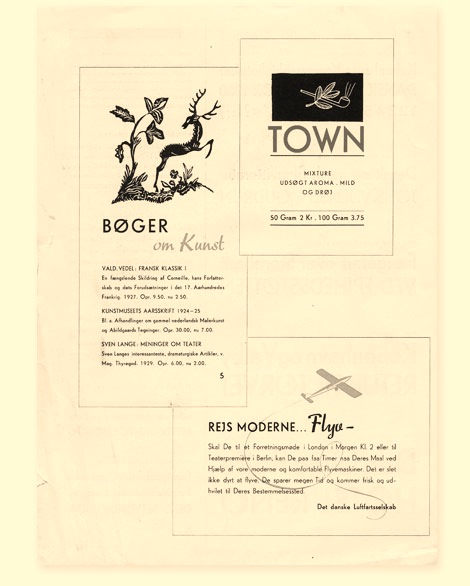 In 1873, William Simmelkiær (1849-1922) founded the type foundry William Simmelkiær Skriftstøberi, Galvanoplastik og Clichéfabrik in Copenhagen, Denmark. William had learned the craft of type founding during a vist of Schelter&Giesecke in Leipzig. In 1904 he acquired the foundry Frieses Skriftstøberi, Copenhagen (established in 1837 by Heinrich Berling), and in 1909 a little unknown foundry in Lyngby.
Their 1912 specimen book entitled Skriftprover confirms that the foundry was quite active. [Flickr site for that 1912 specimen book. Another pic of that book. And another one. And another one.]
After William's death in 1922, his son Svend Simmelkiær (1892-1939) took over the foundry. In 1923, Svend established Grafisk Compagni as a sales company. The old foundry continued to cast type under the original name, but now as a part of Grafisk Compagni. The main business of Grafisk Compagni was the sale of equipment to the graphic trade---types from Genzsch&Heyse, presses from F.A.G., Vandercook, Miehle and Albert Frankenthal, and typesetting machines from Linotype. After Svend's death, the company became an Inc/ Ltd in 1940. In 1982 the company closed down. All the rights to their types were acquired by Haas'sche Schriftgießerei and all mats, machines, archives and so forth were destroyed. They only cut one original face, the brushy Stafet. The typeface was designed by Kai Plet in 1937 and was only cast in 36, 48 and 60 point. The rest of their type holding were from foreign type foundries such as ATF, Berthold and Bauersche Giesserei [see, e.g., Corps 48 or Dana Bodoni]. The typeface Simmilkiær Grotesk is a special Danish version of Polar/Kristall/Saxo/Rund Grotesk cut by Wagner&Schmidt, Leipzig (1930-1937). Simmelkiær Grotesk is not 100% identical to any of the German and Swedish versions though.
EXTERNAL LINKS
William Simmelkiær Skriftstøberi
MyFonts search
Monotype search
Fontspring search
Google search

INTERNAL LINKS
Extinct 20th century foundries ⦿ The Danish type scene ⦿ Brush script typefaces ⦿ Type designers ⦿ Type designers ⦿ Foundries of the 19th century ⦿ Modern style [Bodoni, Didot, Walbaum, Thorowgood, Computer Modern, etc.] ⦿