Corisco Design Grafico [Fátima Finizola]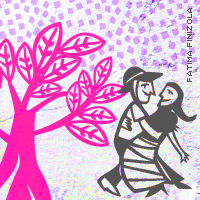 Brazilian design company located in Recife, which lists type and design events in Brazil. Fatima Finizola is the Recife-based Brazilian designer (b. 1975, Recife) of the dingbat typefaces Zabumba City and Zabumba Folk (2007, T-26, but created in 2006) at Corisco Design Grafico (Recife, Brazil), a company she codirects with Damiao Santana since she founded it in 2000. Zabumba was selected for Bienal Letras Latinas 2006) and was one of the winners of Tipografia Brasilis3.
She also made 1RialCT (2006, hand-printed), Pontes, Silicone, 1rial CT, Capoeira Light and Capoeira Black (by Damiao Santana), but I do not know how to download them.
The company is run by Damiao Santana (a photographer and visual artist) and Fátima Finizola. They make type as part of visual identity projects.
Free font downloads: Pontes, Capoeira (light and black), Silicone, 1rial.
Fátima Finizola & Damiâo Santana won an award at Tipos Latinos 2014 for Dingbat Carroceria.