Marina Martins Chaccur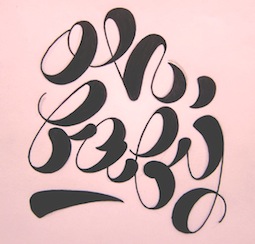 Marina is a Brazilian graphic designer and teacher, who graduated from Fundação Armando Alvares Penteado FAAP. She has an MA from the London College of Communication. In 2011, she obtained a Masters in the type and media program at KABK, Den Haag. She was a designer and college tutor in Sao Paulo, Brazil, but now lives in Den Haag, The Netherlands.
She spoke at ATypI in Lisbon on vernacular Brazilian type and the current state of Brazilian type design. On her site we can find some sketchbooks, and a proposal for a blackletter face, among many other type-related goodies.
At KABK, she designed the type system Chic (2011). This family includes fashion mag styles from a roman sans to curly caps and a "chic" didone.
In 2013, she created the beveled caps typeface O Melhor de Sao Paulo, which is based in part on Jackson Cavanaugh's Alright Sans Ultra.
In 2014, Crystian Cruz and Marina Chaccur co-designed the sans custom typeface UOL for the Brazilian internet provider.
EXTERNAL LINKS
Marina Martins Chaccur
Behance page
MyFonts search
Monotype search
Fontspring search
Google search

INTERNAL LINKS
Type personalities ⦿ The Brazilian type scene ⦿ Type designers ⦿ Type designers ⦿ Blackletter fonts ⦿ Modern style [Bodoni, Didot, Walbaum, Thorowgood, Computer Modern, etc.] ⦿ Ornamental caps typefaces ⦿ Fashion mag typefaces ⦿ 3D fonts ⦿ Corporate typefaces ⦿ Curly typefaces ⦿