Kevin Larson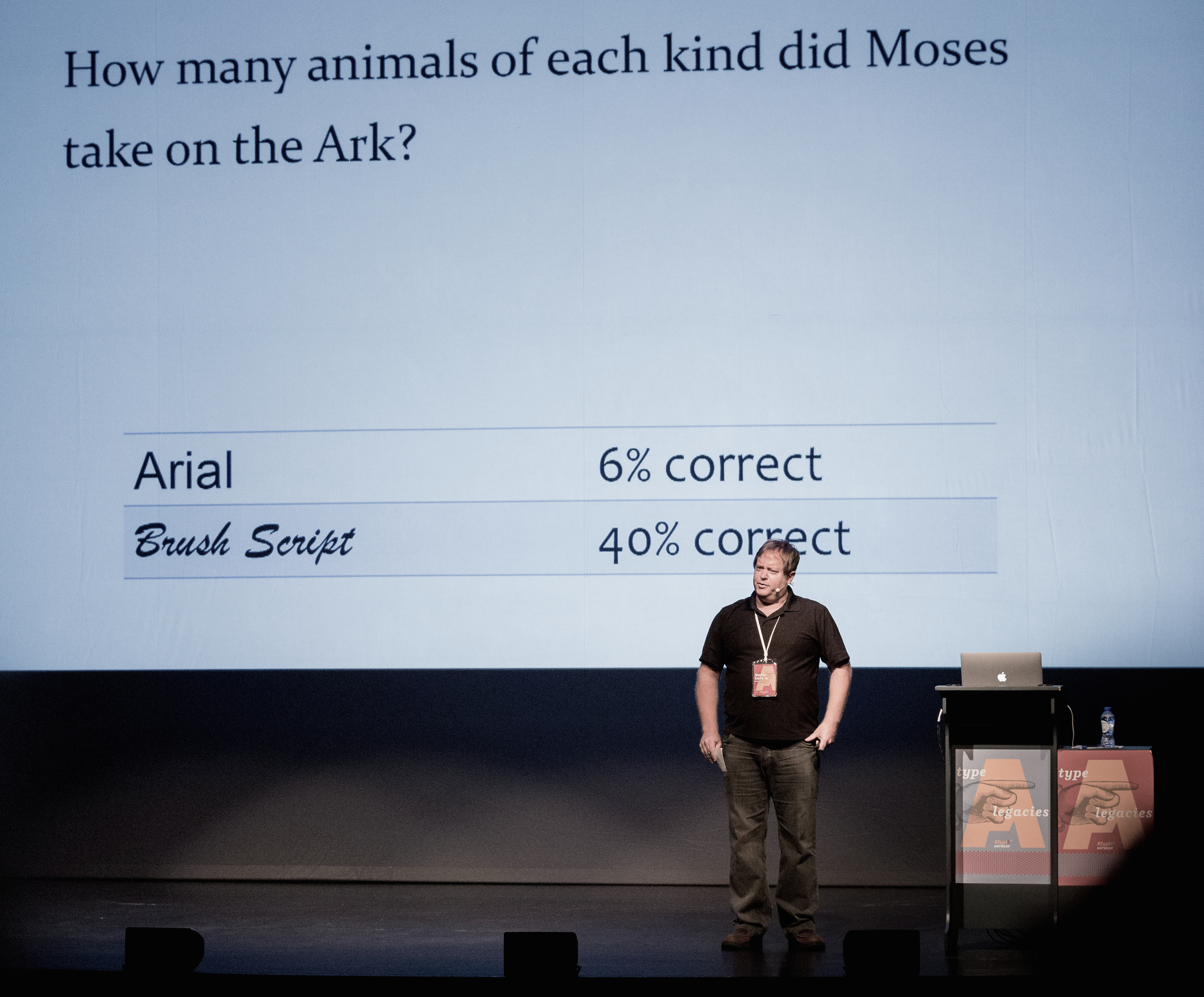 Kevin Larson received his PhD in cognitive psychology in 2000 from the University of Texas at Austin. His academic research was on word recognition and reading acquisition. He currently works for Microsoft's Advanced Reading Technology team in Redmond, WA, and is working on the scientific understanding of ClearType and other reading technologies.
At ATypI 2003, he spoke about the recognition of words. He provided evidence to support the following theory: "The reader recognizes each of the letters at the same time (in parallel) and assembles a word." (As opposed to sequential recognition and assembly, or word shape recognition.) Speaker at ATypI 2007 in Brighton. At ATypI 2009 in Mexico City, his talk was entitled Don't we have enough fonts? A summary: Few can distinguish differences between typefaces beyond a serif / sans-serif difference, particularly with text typefaces. If readers can't detect these differences, then we are wasting a lot of time and effort. Many researchers now believe that that people have two evaluative systems - one that involves slow, effortful, deliberative thinking - and one that is automatic, fast, and pre-attentive. The second, called rapid cognition, allows people to make rapid judgments with relatively little information. For example, it only takes 50ms (1/20th of a second) to make a judgment about the aesthetics of a website that is similar to a judgment made after a long exposure. Our studies demonstrate that the personality of a typeface is identified with rapid cognition and that it impacts our recognition of the words written with the typeface.
At ATypI 2013 in Amsterdam, he speaks about Designing with Science (jointly with Matthew Carter). An excerpt: Matthew Carter and Kevin Larson have developed a type design process where they iteratively conduct scientific letter recognition tests and use the results from the tests to inform design decisions. Speaker at ATypI 2017 Montreal: Typography for Children. Speaker at ATypI 2018 in Antwerp.
EXTERNAL LINKS
Kevin Larson
MyFonts search
Monotype search
Fontspring search
Google search

INTERNAL LINKS
Readability & Legibility ⦿ Type scene in Texas ⦿ Type scene in Washington ⦿ Children's handwriting fonts ⦿