Hex [Nick Sherman]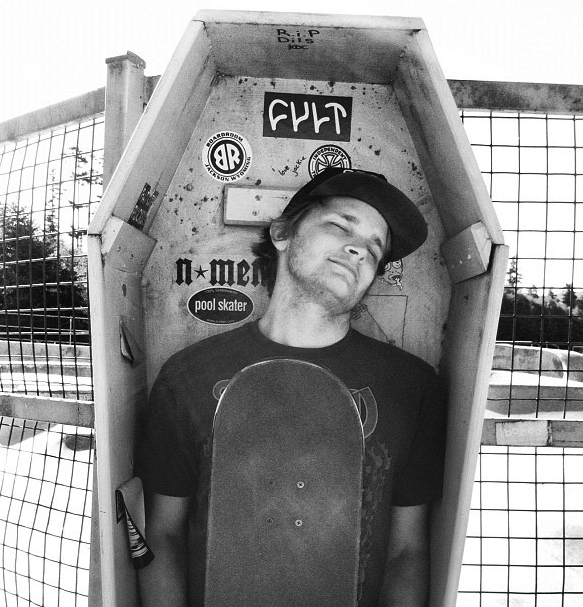 Hex was founded by Nick Sherman (b. 1983). Nick is a typographer and typographic consultant based in New York City and Los Angeles. He is a co-founder of Fonts In Use and a graduate of the Type@Cooper typeface design program at Cooper Union. He serves on the board of directors for the Type Directors Club, the Adobe Typography Customer Advisory Board, as well as the artistic board for the Hamilton Wood Type & Printing Museum. He has taught typography, typeface design, letterpress printing, and responsive design at MassArt and Cooper Union. He previously worked at Font Bureau, Webtype, and MyFonts, directing web design and promotional material for typefaces.
Originally from Hyannis Port and Boston, MA, he studied graphic design at MassArt in 2005. His degree project there, entitled A Modern Day Specimen Book, is beautifully presented, and leads us through thoughts on type classification to the idea of type molecules, with the nodes in the molecules representing styles or descriptions or dates, and the edges representing typefaces. He is interested in wood type, and occasionally helps out the organizers of the TypeCon conferences.
As a designer at MyFonts (from 2007 until 2010), he was in charge of the interviews, presentations, and web designs of their successful and useful pages.
In 2010, he joined Font Bureau. Flickr page.
He is the founder of Woodtyper, an online journal focused on large and ornamented type and related matters. He also set up the type documentation project Type Record together with Indra Kupferschmid. His type designs:
Ambient (2005): a simple geometric monoline logotype for Ambient Devices.
Sargent (2004): inspired by the lettering on the gravestones at Boston's Old Granary Burial Ground.
Meatland (2004): a grotesk inspired by the lettering on a shop in Jamaica Plain.
Plan 9 (2005): a squarish masculine sans typeface originally designed for a TV program called 3-B which would feature B-movies, including many horror flicks.
HWT Brylski (2017, P22 Hamilton Wood Type Collection), named for retired wood type cutter Norb Brylski and designed to be cut as wood type at the Hamilton Wood Type & Printing Museum. It incorporates several themes that were common in 19th-century type design, including split Tuscan serifs with angled mansard-style sides, heavy weight placement at the top and bottom of letters (traditionally referred to as French or Italian/Italienne), and an extended overall width. The design was started in 2011 and released in 2017. David Jonathan Ross assisted with the final digital font production.
Cleaner. Inspired by casual lettering seen in everyday settings: laundromats, work trucks, comics, parking signs and diners.
Flight Center Gothic, designed for Michael Bierut's team at Pentagram as part of a restoration of the TWA Flight Center, Eero Saarinen's 1962 icon of modernist architecture at JFK airport in New York City. The typeface is a reinterpretation of the building's original signage lettering, with origins in Johannes John's Fette Kursiv-Grotesk, originally released as a standalone italic in 1892 by the J. John Söhne type foundry. David Jonathan Ross assisted with the final font production.
Forester (2019), a typeface inspired by rounded lettering on signage at many parks in North America.
French Tuscan. A Tuscan typeface modeled after a wood type-like typeface in the collection of Lanes Press.
Horn Please. Inspired by a quirky, chamfered lettering style often used for Horn OK Please truck signs in India. The widths are drawn for variable interpolation.
Kobodaishi. Kobodaishi is a digital interpretation of Electra, originally designed by W.A. Dwiggins.
Kultur. An ultra-condensed grotesquea: It follows the ultra-narrow flat-sided headline typeface genre sometimes referred to as Inserat.
Curvature.
Laureate. A digital revival of Laureate, a typeface originally released by the Keystone Type Foundry at the turn of the 20th century. Sherman's version is based on an adaptation by the Ludlow Typograph Company.
Lauweriks. Lauweriks was inspired by the Quadratuuralfabet, designed by Dutch architect and designer J.L. Mathieu Lauweriks in 1900. The new typeface adds a lowercase and refines or replaces the forms from the original caps-only design.
Lupino Sans and Serif. Influenced by newspaper type.
Manifold Sans and Serif. An expansion of the original manifold monospaced typeface for IBM Selectric typewriters.
Margo. Margo is inspired by classic hand-lettered movie titles and book jackets from the 1940s and 1950s. Many of its distinctive features follow lettering from films art directed by Lyle R. Wheeler, including All About Eve, The Gunfighter, The Secret of Convict Lake, and dozens more.
NYC Sans. NYC Sans is a typeface originally commissioned by New York City's official tourism agency, NYC & Company, as their brand typeface. The design began with my digitization of the type system from the 1970 NYCTA Graphics Standards Manual. In collaboration with Jeremy Mickel and with design direction from Emily Lessard, additional weights and refinements were developed.
Papanek. Inspired by the energetic handwriting of industrial designer and social critic, Victor Papanek, this typeface began as a commission for use in a book on Papanek by Al Gowan. Many characteristics of the design come directly from samples of Papanek's writing.
Phive. Based on Stephenson Blake's Condensed Sans Serifs No. 5, including a range of optical size variations.
Plastic Script.
Service Gothic (2020). A vernacular sans with a variable font thrown in.
Skelter. Based on a piece of blackletter calligraphy by Jaki Svaren.
Strike. A hairline sans based on an alphabet found in 50 Alphabete fuer Techniker und Fachschulen by Eric-Jean Müller.
He wrote Type from the Crypt about horror fonts. He started the Flickr group called Manicule about pointing hands (fists; see, e.g., here and here). He wrote the long essay on printing fists called Toward a History of the Manicule (2005). Check out this pic he took of Lucha Libre posters in Mexico City in 2009. He also designed the poster for the 2008 documentary on wood type called Typeface.
Speaker at ATypI 2011 in Reykjavik. Speaker at ATypI 2013 in Amsterdam. Future Fonts link.
EXTERNAL LINKS
Hex
MyFonts search
Monotype search
Fontspring search
Google search

INTERNAL LINKS
Type designers ⦿ Type designers ⦿ Wood Type ⦿ Fists, pointing hands ⦿ Horror fonts ⦿ Type scene in Massachusetts ⦿ Type scene in New York ⦿ Tuscan fonts ⦿ Commercial fonts (small outfits) ⦿ Type scene in California ⦿