Ezzazabra [Ezza Adhreza Brahma]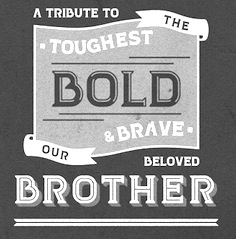 Based in Bandung, Indonesia, Adhreza Brahma (b. 1987) is a typographer and illustrator. At Dafont, one can download Barbarossa (2013), Libre (2013, bilined typeface), Variol (2013), Attic (2009) and Vol (2009). The last two are (incomplete) techno fonts. Bite of Crab (2010) is a monoline octagonal shell. Angled (2013) is a futuristic typeface inspired by traditional letter from Makassar, Indonesia called Lontara. Bite of Crab (2013) is a modular octagonal typeface. Wallflower (2013, free) is a headline sans typeface. Nocte (2013) is a free gothic condensed sans typeface.
Typefaces from 2014: December, Kandel (a great layered typeface in Regular, Bevel and Inline versions), Jingga, Expatriate (a compass-and-ruler typeface), Father (vintage signage face, with 3D and Distort styles).
In 2015, he designed Puna (copperplate), Nawaitu (signage typeface), Tresno (a curly brush script), Mementomori (a modern blackletter), Gulana Slab Serif, the piano key typeface Zaun, and the 7-style vintage typeface family Sonten, which comes in 3D, Bevel, Contour, Deboss, Outline, and Shadow forms.
Typefaces from 2016: Hujan (a fun calligraphic printed typeface), Canda, Canda Script, Ririwa (evil ghost: a wonderful scary ink splatter font).
Typefaces from 2017: Oun (a vernacular blackletter typeface inspired by the Khmer alphabet).
Aka Ezza Zebra. Behance link. Creative Market link.