Pierfrancesco Annicchiarico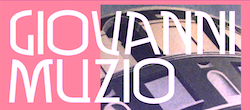 Freelance graphic designer in Grottaglie, Italy. Stones inspired Pierfrancesco Annicchiarico to design the experimental typeface Secco (2009). The Cà brùtta building by Giovanni Muzio in Milan got him to design the free font Monumentale (2009). The 2010 logo for Bar Marangi in his home town is also quite refreshing. He also made the free experimental geometric typeface Cutoff (2011) and Apulia Round (2010).
In 2012, he created the free monoline octagonal typeface Segmentum, and the poster typeface Sportiva.
Grottangeles (2014) is possibly named after the cholo graffiti style practiced in Los Angeles. He also designed a set of wayfinding icons in 2014. Other typefaces: Ballphabet (2015, an experimental circle-based typeface family), El Santo (2014, a hipster typeface).
Pierfrancesco's logo and typography work includes beauties such as a fish called Aperitivo (2011), and a foot illustration called Walking (2011).