Amazingmax [Maxim Avdeev]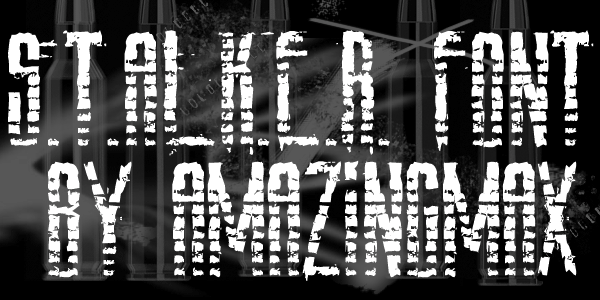 Maxim Avdeev (aka Amazingmax) is the Kazan, Russia-based creator (b. 1997) of some futuristic/game fonts in 2009: AmazXakep, AmazDooMLeft, AmazDooMLeft2, AmazDooMLeftOutline, AmazDooMRight, AmazDooMRight2, AmazDooMRightOutline, AmazS.T.A.L.K.E.R.Italic, AmazS.T.A.L.K.E.R.v.2.0. In 2010, he made the AmazGoda family of comic book typefaces.
In 2011, he added AmazHand_First, AmazHand_First_Alt, AmazHand_First_Alt_X, AmazHand_First_Hard, AmazHand_First_Smooth.
Fonts from 2012: Amaz Mega Grunge.